Katy Perry, Orlando Bloom's Complete Relationship Timeline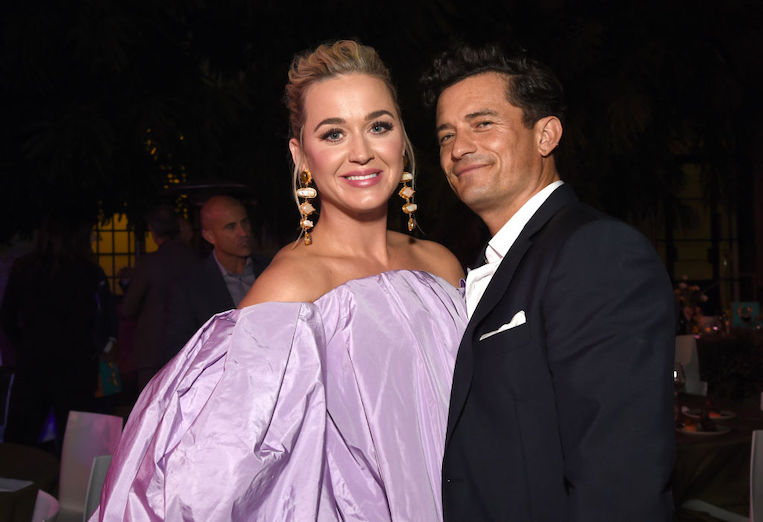 Photo by Michael Kovac/Getty Images for Lifetime
It's been a long and wild ride for American Idol judge Katy Perry and actor Orlando Bloom since they first met in 2016. From their first meeting, to sharing a daughter together, and everything else in between, here's their complete relationship timeline.
The pair originally met in 2016 while arguing over a burger, they reportedly began dating sooner after, but took a break in 2017. In less than a year, they revived their romance and even progressed to the next level. Bloom proposed to Perry on Valentine's Day in 2019, but their wedding was postponed due to the coronavirus pandemic. Although their wedding plans were pushed off, the couple move in together and welcomed their first child into the world in 2020. In present day, they're still going strong.
They Had an Argument Over a Burger at The Golden Globes
This couple's love story begins when they argued over a burger at the Golden Globes. Although this may not seem like the ideal place to meet a life partner, they've truly made the most of it in their lengthy relationship.
"I met my boyfriend over In-N-Out. We were at the Golden Globes and we weren't together," Perry said "So I had my security guard grab 10 In-N-Outs, and all of a sudden I see my boyfriend's hand. He just swoops in and he grabs it and I was like, "Hey that's my burger!""
They officially announced their relationship in May the same year, after attending the Cannes Film Festival. Perry captioned a photo of herself and Bloom on the stairs of the Hotel du Cap-Eden-Roc in Cap d'Antibes, France.
They Briefly Broke Up in in 2017
Perry and Bloom split up in February 2017 after dating for just over a year. Fans suspected that the couple parted after arriving separately at the annual Vanity Fair Oscars party and spending little time together.
"Before rumors or falsifications get out of hand, we can confirm that Orlando and Katy are taking respectful, loving space at this time," A representative revealed at the time.
Perry made the announcement that she was no longer single on the American Idol season finale in 2018. Bloom and Perry made their public red carpet introduction as a couple on September 26, 2018, at the Gala for the Global Ocean at the Opera of Monte-Carlo in Monaco. They left for a holiday getaway to the Greek Island of Corfu after the event.
Perry and Bloom Got Engaged in February 2019
Bloom proposed to Perry in a very spectacular fashion on Valentine's Day, as she subsequently revealed on Jimmy Kimmel Live. The actor had planned to ask the big question for a long time, and even asked his parents for approval.
"It was very sweet," Perry said. "It was Valentine's Day, we went to dinner and I thought we were going to go see some art after dinner but we pulled up to a helicopter."
Since they are already engaged, it is only natural that the next step would be to move in to a home together. Bloom sold his house and moved into Perry's, which was far more private, according to a source close to him.
The Couple Revealed They Were Expecting in March 2020
Perry made her pregnancy known in the music video for "Never Worn White," which features footage of Perry holding her growing baby bump. This video practically broke the internet, since fans weren't expecting this Easter egg.
"There's a lot that will be happening this summer, not only will I be giving birth literally but also figuratively to something you guys have been waiting for," Perry said.
She announced her pregnancy via an Instagram Live shortly after the video's release and said it was perhaps the longest secret she has ever had to maintain.
Perry Gave Birth in August the Same Year
On August 27, 2020, Perry and Bloom announced the birth of their daughter through UNICEF, a cause for which they are both Goodwill Global Ambassadors. The announcement included a black-and-white photo of Daisy Dove Bloom gripping her father's finger, while Perry held her wrist.
Perry also mentioned how fortunate they had a "peaceful delivery," and that their baby is perfectly healthy. Within the post, she also asked fans to donate to UNICEF, to help expecting mothers get access to a trained health worker and access to quality healthcare.
In Present Day, They're Planning Their Wedding and Preparing for Baby No. 2
Perry claimed that the couple had not chosen a venue for their wedding even three years after being engaged. In August 2022, Perry also expressed her desire to expand her family with her fiancé. She remarked, adding that they are already preparing for more kids. She also shared her story about having a kid during the COVID-19 epidemic.
"It was just such an interesting thing having a child during COVID because everything paused besides that." Perry said. "I love the experience I'm having with my daughter now."
Let us know what you feel about this article