DANG! Gigi Hadid Trashes "Ugly A*s" Jake Paul For Dissing Boyfriend Zayn Malik
Instagram
Jake Paul constantly finds himself at the forefront of controversy. In a recent tweet, Paul went all out on Zayn Malik calling him a 'childhood star'. Gigi Hadid was quick to respond to the YouTube star, teaching him a vital lesson.
TRENDING: SIMON COWELL BACK ON SOCIAL MEDIA AFTER 10 MONTH HIATUS WITH ERIC COWELL ANNOUNCEMENT
Jake Paul 'almost had to clap up' Zayn Malik
In a recent tweet, now taken down by Jake Paul, he claimed to have nearly caught himself in an altercation with Zayn Malik. Whilst the info Jake Paul gave was vague, it seems Zayn had no interest in talking to Jake, no matter how 'nice' he was.
'he literally started yelling and freaking the f*** out' says Paul in a tweet.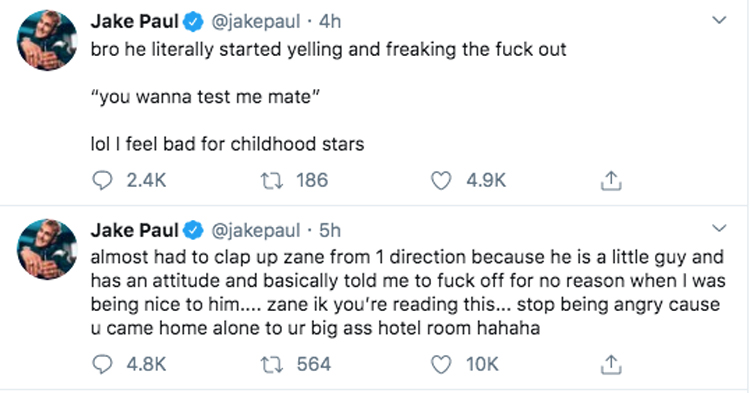 RELATED: JAKE PAUL REVEALS NEW INFO ON UPCOMING BOXING FIGHT WITH KSI
Gigi Hadid responds to Jake Paul, telling him to 'go to bed'
Zayn's girlfriend, however, was more than happy to reply to Jake. 'Unbothered by your irrelevant ugly ass. Go to bed …' Gigi replied. And, it seems that reply hit close to home for Jake. Just hours later, the internet star blamed his tweet on his drinking habits. He then uploaded a short video to his Instagram story, with a One Direction song playing in the background.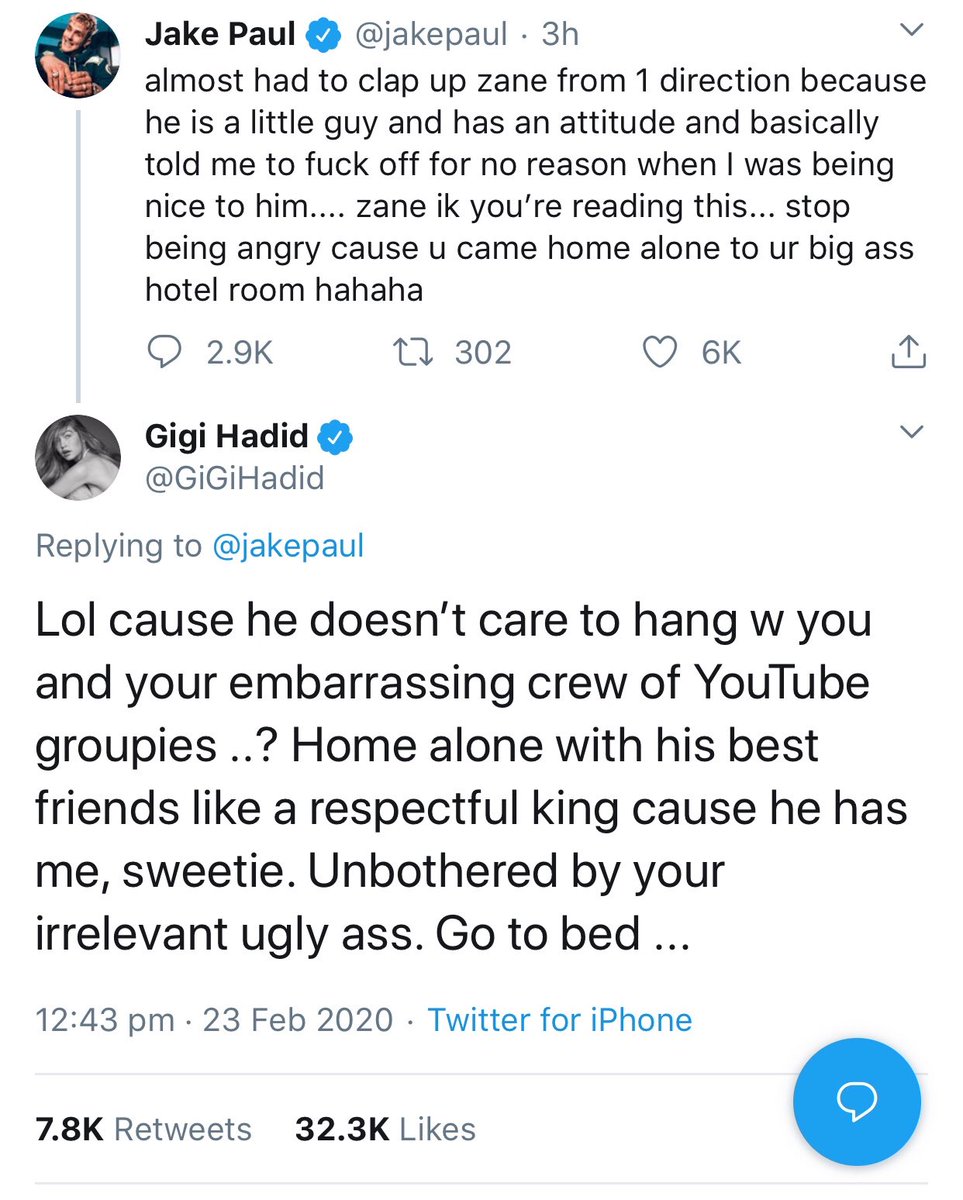 Jake Paul's 'Financial Freedom Movement', labeled as a 'scam' fails to attract attention
Paul also recently announced a new program he's launching called 'FFM'. The site that is currently on sale for $20 a month ($40 at full price), aims to fix the education system that Jake heavily frowns upon. Many commentators have brought light on the new 'movement' for being a scam. In a tweet promoting the site, Jake claims the education system is 'worthless'.
"I was like, why are we sitting in class right now, learning the quadratic formula when we should be learning about taxes and insurance?" says Jake in an interview with Variety.
Millions of internet users are adamant this program serves no honest purpose.
Jake Paul's previous site, 'Edfluence' was taken down without warning
This isn't the first time Jake has attempted to build a program based on financial growth. His previous site, 'Edfluence' followed a similar premise. However, after the site failed to attract a healthy number of subscribers, it was taken down without any warning.
YouTuber, Drew Gooden was one of the first to report on this after attempting to 'revisit' Edfluence.
SEE ALSO: HOW BTS' NEW ALBUM 'MAP OF THE SOUL: 7' IS THEIR BEST ONE EVER
Let us know what you feel about this article