Who Is Roberta Battaglia? 5 Facts About Canadian Child Prodigy On 'America's Got Talent'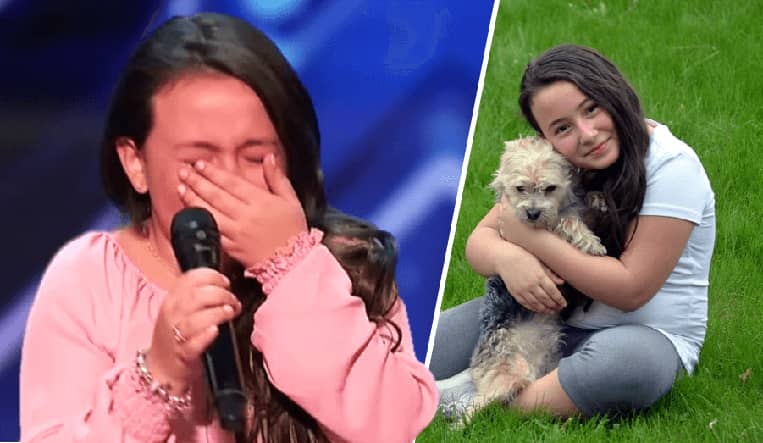 NBC
This season of AGT introduces us to Roberta Battaglia, a 10-year-old singer from Canada with a voice beyond her years. Prepare to be blown away by her talent and poise.
Read on to find out more about this talented youngster, including how long she's been singing and where she draws her inspiration from. We can't wait to see how far she goes on AGT Season 15.
5 Facts About 'AGT's Roberta Battaglia
Roberta's parents are Italian.
Roberta was born in 2009 to Italian parents, making her 10 years old now. She lives in Toronto, Canada, and is fluent in both English and Italian. Her father, Alessandro, is also a singer. He moved to Canada from Italy in 2008. Alessandro inspired his daughter to sing, as her mom says she would pick up his microphones from a young age.
RELATED: WHY 'AGT' WILL STILL BE ON IN THE MIDST OF THE PANDEMIC
She's been singing with her dad for years.
Roberta started singing when she was three years old, and has performed locally with her father. "It's because of him that I'm where I am and doing what I do," Roberta has said of her father's influence. Check out one of their first duets together above, in which they perform "Mi scappa la pipì."
Her cover of 'Shallow' went viral.
Last year, Roberta appeared on Canadian morning show Breakfast Television, which happens to be her favorite television show. She performed "Shallow" from A Star Is Born. The hosts were blown away by the performance, with one of them saying it's the "best version" he's ever heard of it. The video racked up over 600,000 views. Interestingly, one commenter suggested she should audition for AGT!
Roberta has raised money for charity.
Roberta does more than just sing. She has also made and sold bracelets to raise money for the charity SickKids. In the video above, she shows off her creations on the news. She said it was something she already knew how to do, and decided it would be a "creative" way to raise money.
RELATED: CONTESTANT PERFORMS DANGER ACT IN QUARANTINE FOR THE 'AGT' JUDGES
"I really like to encourage people, especially kids my age," Roberta has said. "Whatever dream they have they can achieve it; never stop dreaming, never stop believing in yourself."
Her dream is to sing with P!nk.
Roberta's favorite genres of music are R&B and jazz, and she names Etta James and Aretha Franklin as some of her favorite artists. When asked in an interview which current artist she would want to perform with, Roberta said P!nk.
"I just love her songs and the notes that she can reach," Roberta explained. "Oh my goodness, she is so humble." She said she's watched her on television and listened to her CDs. Maybe AGT can make this dream duet happen!
Let us know what you feel about this article