What is 'The Voice' Star Melanie Martinez Up to in 2022?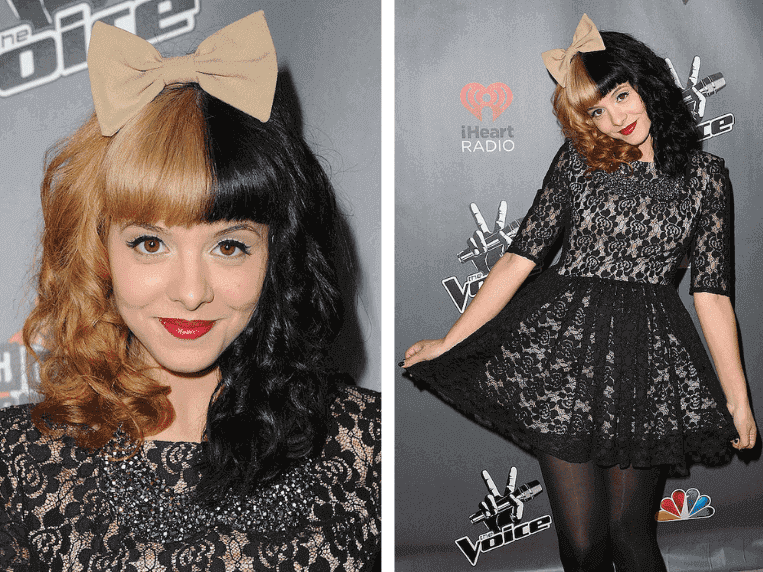 Photo by Jon Kopaloff/FilmMagic, Photo by Frederick M. Brown/Getty Images
It's no secret that Melanie Martinez is one of the most memorable singers ever to come out of The Voice. This singer quickly found mainstream success following her time on the show with her debut single and EP, Dollhouse. Here's what she's up to in 2022.
At the age of 16, Melanie Martinez made her debut on national television on the third season of The Voice. She auditioned for the competition singing "Toxic" by Britney Spears. Adam Levine, CeeLo Green, and Blake Shelton turned their chairs for the singer. Eventually, Martinez picked Levine as her coach.
Martinez succeeded through the Battle and Knockout Rounds, but was saved by her coach in the live playoff rounds. In week three of the live playoffs, Martinez's performance of "Seven Nation Army" hit No. 19 on the iTunes Top 200 Song Chart. The following week, her performance of "Too Close" had a similar path, peaking at No. 6 on the iTunes Top 200 Song Chart.
Unfortunately she was eliminated in the Top six of the competition. Her elimination also eliminated Levine out of the running, since she was his last artist standing.
"I never expected to get this far and this is beyond what I've ever dreamed of," Martinez said following her elimination. "I'm just so glad I got to express who I am as an artist and really touch people's hearts because that was the ultimate goal."
Melanie Martinez Skyrockets to Fame
Martinez spent the majority of 2013 writing her debut project, Dollhouse. Her first single released on February 9, 2014, with the EP following on May 19. In between the release of her single and album, Martinez signed to Atlantic Records and announced a tour. Her EP track "Carousel" found the most fame of those in the EP. It became certified gold by the Recording Industry Association of America (RIAA) and was featured in a preview for FX's miniseries American Horror Story: Freak Show.
In 2015, the singer released her next single "Pity Party," in preparation for her album, Cry Baby. Cry Baby was released on August 14, 2015. It debuted at No. 6 on the Billboard Top 200 Albums Chart. By 2017, this album was certified Platinum by the RIAA.
In 2017, Martinez released an album and film entitled K-12. The film was available in select theaters worldwide, as well as on YouTube, and included in the downloadable version of the album. Due to the success of K-12, Martinez began teasing another film/EP duo in 2020. The EP, After School, serves as a deluxe edition of K-12, though they are not connected in terms of timeline. This EP is currently available on every streaming platform.
What Led to Her Decline?
Martinez was once a force to reckon with in the music industry, so what happened? In late 2017, Martinez faced sexual assault accusations by her former friend. Due to the accusations, the internet decided to cancel Martinez, which led to her break from the limelight.
In late 2017, Timothy Heller came forward via social media to allege that she was assaulted by her "best friend." Heller described the situation as two nights in which she "repeatedly said no" to sexual advances from Martinez. Martinez's identity was revealed throughout the allegations.
"The thought of accepting that my best friend raped me seems insane," Heller wrote. "But I began to get responses I wasn't expecting. Concerned ones. It's hard to say someone you loved raped you. Someone you STILL love."
Originally, Martinez issued a statement in response, saying she was "horrified and saddened" by the allegations. Within the statement, the singer said their friendship lifted each other up, adding that Heller "never said no to what we chose to do together."
Later, the singer issued another statement, thanking fans for researching their friendship timeline. She acknowledged that everything in their friendship was consensual, stating "please know that my intentions with everything that I do in my life are always pure and I would never be intimate with someone without their absolute consent."
What is She Up to in 2022?
After multiple statements, Martinez's fans attacked Heller for her accusation. People argued that she should have went to the police instead of Twitter for the personal manner. Since fans ultimately took Martinez's side, believing that she would've been sued if true, the allegations more or less blew over. When Martinez returned to music with K-12, fans were on board for her new music. Many former fans have taken their stance on the matter, many were able to forgive and forget for this situation.
Over the years, Martinez has become less and less active on social media. In present day, her last Instagram post was published on March 19, 2022 and her last YouTube video was release over a year ago. Even though she's not particularly active on social media, her song "Play Date" has become one of the top 100 most played songs on Spotify, after going viral on TikTok. In 2022, it is believed that Martinez's net worth is $8 million, with a $1 million annual salary.
Let us know what you feel about this article