Trevor Donovan Shares Heartfelt Goodbye to 'DWTS' Partner Emma Slater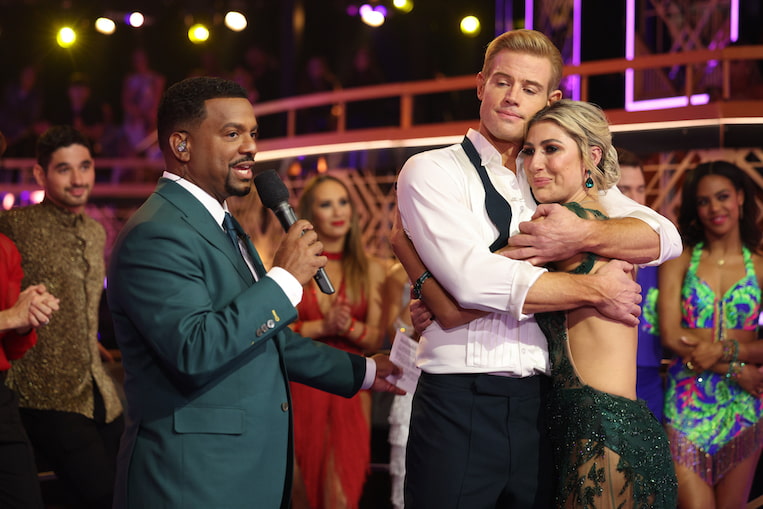 Photo by: ABC/Raymond Liu
Trevor Donovan and his professional partner Emma Slater were eliminated from Dancing with the Stars earlier this week during the Semifinals. Donovan took to Instagram to share some parting words for Slater, along with a heartfelt video.
Trevor Donovan Shares Tribute to Emma Slater
On Wednesday, Donovan shared an Instagram video set to "Up Where We Belong" by Jennifer Warnes and Joe Cocker. It included clips from his time dancing with Slater on Season 31 of DWTS, starting with their first meeting.
In the post's caption, Donovan wrote a long message to Slater, telling her in part, "I consider myself lucky to have had you as my teacher and partner, but also as a friend, the one who helped me overcome a lifelong fear."
Donovan went on to describe himself as a "scared clumsy duckling paired up with a skilled captivating swan." He thanked the fans for voting for them from week to week and said of his time on the show, "I'll miss this."
Slater responded to Donovan's post by writing, "Omg actually crying over this!!" She added, "You're amazing! No longer a scared clumsy duckling, you my friend are a dancer. Can't wait to dance with you again."
SEE ALSO: EMMA SLATER, TREVOR DONOVAN REACT TO QUESTION ABOUT THEIR 'DWTS' CHEMISTRY
Some Fans Want Donovan and Slater to Date
Donovan and Slater's chemistry has been a topic of discussion during this season of Dancing with the Stars. Even host Alfonso Ribeiro asked about it earlier in the season, which was a little awkward considering Slater recently split from her husband, fellow pro dancer Sasha Farber.
Some fans also see the pair in a romantic light, as one Instagram user commented on Donovan's recent post, "Can you both please marry each other." Another fan wrote, "Sooooo like it's obviously a match made in heaven." Someone else simply wrote, "MARRY HER."
A TikTok user also recently shared a video of Donovan's remarks at the end of Monday's show, saying they expected him to either "ask Emma to be his girlfriend or announce they were dating."
Let us know what you feel about this article