Miley Cyrus, Pete Davidson Set to Co-Host New Year's Eve Party in Miami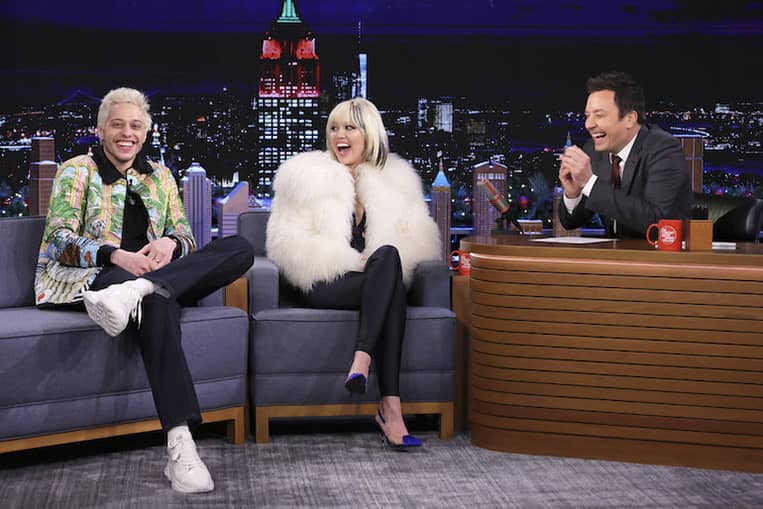 Mike Coppola/NBC
Yesterday, Miley Cyrus and Pete Davidson appeared on The Tonight Show with Jimmy Fallon to announce they will co-host Miley's New Years Eve Party in Miami. This party will be broadcast live on NBC from 10 p.m. to 12:30 a.m. on Dec. 31.
Since the announcement, fans have been thrilled to hear that the former coach of The Voice will be hosting a party of her own. Fans of the singer already know that her party is going to be crazy.
Miley Cyrus Hopes to Jump Into The New Year With Optimism, But Also Wants to Remember Good Parts of The Year
On the show, Cyrus shared that there isn't enough reflecting done on New Year's Eve. While many stay optimistic for the upcoming year, she noted that people also should highlight good things from the past year.
"We kind of erase everything that did happen and we forget to honor it and look backwards too and look at the– even these last, year and a half, two years has been rough but there's these micro moments of happiness I'm sure we all can find," said Cyrus. "Mine was–I'm recently an auntie. So I have a little nephew now, so even though this year has been hard, the last year and a half was hard, you find those things that were positive in the year before."
She hopes to bring a mix of optimism and memorable times to her show. The singer chose Miami to change the dynamic of the holiday. She's offering an environment where her guests don't have to freeze to be in attendance.
"All these other shows, people are going to have on big coats. Everyone is going to be shaking and freezing and then I'm going to have no clothes on per usual," Miley joked. "He'll be funny and I'll be naked and together we'll have a show."
Even though Cyrus doesn't like the cold, she has previously performed on New Year's Rockin' Eve in Times Square. She shared that she's been hesitant to go back to New York following a wig incident that occurred in her Hannah Montana era. That year it rained and hailed, so her wig was frozen to her head. She shared that she had to wait until the wig melted off itself to take it off for the night.
This singer will be overseeing all musical performances on Miley's New Years Eve Party. Since she is a huge fan of music, she noted that her show is kind of like a variety show. There's not a specific genre that will be highlighted more than others. The singer is providing a platform for all genres to mix together. These artists have yet to be announced, but I'm sure there will be a solid mix of old and new names in music.
Let us know what you feel about this article