Ken Jeong Reunites With 'Community' Co-Stars on 'I Can See Your Voice'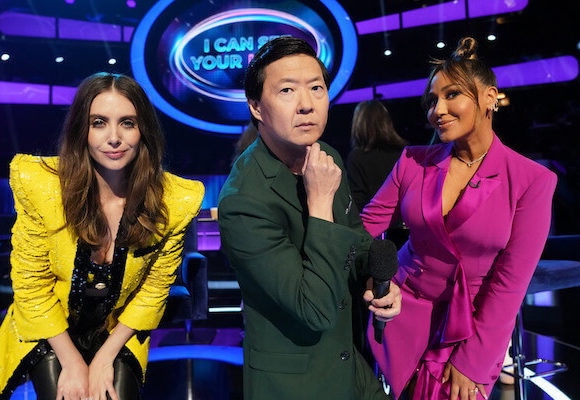 Fox
'I Can See Your Voice,' has been a ratings hit during its second season run. This weeks show will certainly have fans of the cult comedy, Community, excited. Golden Globe nominated actress Alison Brie is set to join the guest judges panel. Her community co-star, Joel McHale, will also serve on the detective panel. This will reunite them with 'I Can See Your Voice' host, Ken Jeong.
This isn't the first time Jeong and McHale have reunited on a talent competition show. McHale is a frequent guest judge on Jeong's other Fox show, The Masked Singer. He also served as a guest detective on the second episode of I Can See Your Voice earlier this season. This marks the first time that all three Community stars have gathered on a new project. Knowing the comedic chemistry they have with each other, I am sure there will be many references to their hit show.
Jeong already could not help himself to tease fans of Community. He posted Fox's Wednesday night lineup with the hashtag #SixSeasonsAndAGameShow. Only die hard fans will understand this reference. When Community arrived on Netflix, fans were eager to help the show reemerge, hoping that Netflix would announce a new season, or at least a movie.
The show launched many of its stars into insanely popular careers. It would be hard to work out everyone's schedule for an actual new season or even a movie. However; there is hope. In 2020 the stars and the creator joined together for a live virtual table read for an episode that aired in Season 5. The live reading was to help raise funds for first responders during the height of Covid-19.
Ken Jeong's 'Community' Family
It seems the Community universe is destined to return one last time. Donald Glover, also known as Childish Gambino, said he is willing to revisit his Community character. Glover left the show after Season 5 and has become one of the show's most popular alumni. Brie posted to her Twitter early January in support of Jeong's new show. Besides frequently coming together on The Masked Singer, Jeong and McHale have a new Planter Peanuts commercial.
Regular panelists Cheryl Hines and Adrienne Bailon-Houghton will be on the upcoming episode. Rounding out the panel will be singer, Ashanti.
Figuring out the good or bad singers without ever hearing someone actually sing, has been a thrill ride for fans of the show. Let's see if our Community stars can help one lucky contestant walk away with the $100,000 grand prize.
Let us know what you feel about this article