Gordon Ramsay Launches New Show 'Next Level Chef' Premiering in 2022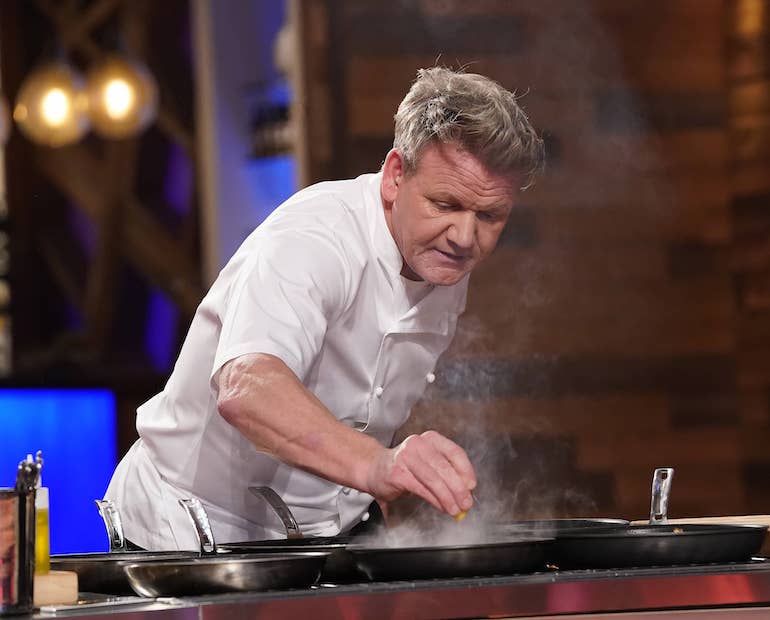 Fox
Gordon Ramsay is back at it again with another new cooking show coming at us in 2022. Ramsay gathered line cooks, home chefs, social media stars, food truck owners, and everyone in between for his newest show, Next Level Chef. The show provides three levels of kitchens that feature different challenges for chefs to show off their abilities.
This show features a three story building with three state of the art kitchens. Each kitchen looks absolutely beautiful from the preview of the show. In each kitchen, chefs will be provided with different foods from which they'll create a meal. Chefs are put into three groups and will all be cooking on different kitchen levels in the competition. The trailer for this series shows an elevator feature which moves dishes between all of the kitchen floors.
Ramsay will bring some of his all star chef friends along with him for this ride. Elite chefs Nyesha Arrington and Richard Blais will be co-mentors for the chefs within the show. Arrington and Blais have both skyrocketed since their time on Top Chef. They're now considered elite chefs and contain a versatile skill set. As a group, Arrington, Blais, and Ramsay are attempting to bring out the very best in their chefs.
The Winner of This Series Will be Chosen Based off Perseverance, Drive Throughout the Competition
Ramsay began his career washing dishes at a local takeout restaurant, so he knows that good work ethic can get a chef to the top. He made this show to feature chefs that have drive, perseverance, and talent to get them to the top. Someone who really wants the title of Next Level Chef will rise to the occasion no matter their skill set.
Only one chef will walk away with the $250,000 grand prize and title of Next Level Chef! This series will air on FOX in January 2022, and Ramsay fans cannot wait to see it. This new show seems extremely unique to its predecessors, especially with the three stories of kitchens aspect.
I think Ramsay is really taking it up a level with Next Level Chef — pun intended. Although he is still looking for the most elite chef, he is also looking for the one that will show the most drive throughout the challenges. I think this series has such a positive message because of that. I cannot wait to see the different types of chefs that are featured in the competition.
Let us know what you feel about this article