'American Idol': Luke Bryan Thinks This 15-Year-Old Will WIN The Show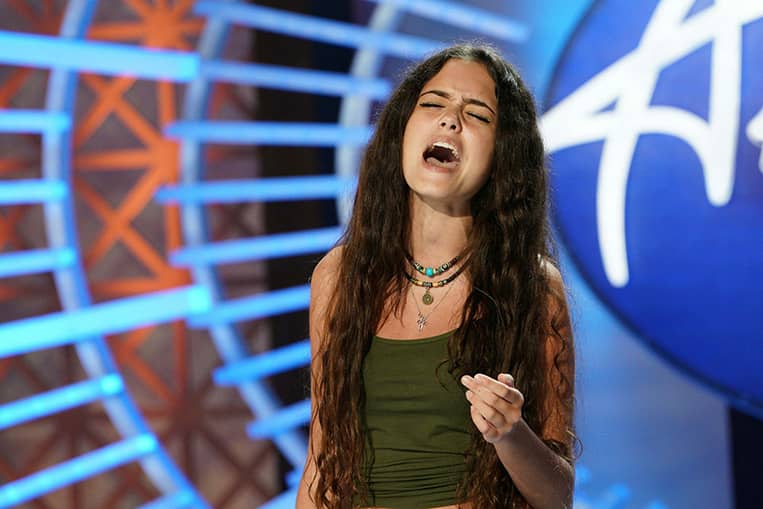 ABC/Christopher Willard
American Idol Season 19 returned on Sunday night with another round of amazing auditions. Judges Katy Perry, Lionel Richie, and Luke Bryan sent several more singers to Hollywood.
This week's show featured an impressive brother-sister duo, a surprising audition from a Thor impersonator, and a performance by a 15-year-old whom Luke predicted would win the entire show. Check out the night's auditions below.
WATCH This Week's 'American Idol' Auditions
Amanda Mena
This 18-year-old, who previously appeared on AGT and La Voz Kids, kicked off the show by singing "Golden Slumbers" by the Beatles. The judges told her she was going to Hollywood in unison, with Katy Perry calling her "one-of-a-kind."
5 FACTS ABOUT 'AMERICAN IDOL' HOPEFUL AMANDA MENA
Ammon & Liahona Olayan
This brother and sister from Hawaii were born a year apart. They performed an original song called "Listen to My Heart," about their experience as siblings. Lionel Richie called it "fresh," and Luke Bryan said Liahona was "ready for the radio." The siblings both got tickets to Hollywood.
Anthony Guzman
This singer showed up to his audition dressed as Thor, hammer and all. Luke said it was a "curveball" when Anthony started singing "Cry Me a River" in the style of Michael Bublé. "Never judge a book by its cover," Katy said. Lionel and Katy voted yes, sending Anthony to Hollywood.
Hannah Everhart
This 17-year-old from Mississippi says people tell her she looks like Katy Perry. Hannah sang "Wayfaring Stranger" for her audition. Luke told her to stop looking for their reactions while she sang. She also performed "At Last" by Etta James. Luke said she's "very close to being an amazing singer." Katy told her not to play it safe anymore. The judges voted to send her to Hollywood.
SIMON COWELL'S 'AMERICAN IDOL' VS KATY PERRY'S 'AMERICAN IDOL — WHAT'S THE BIG DIFFERENCE?
Calvin Upshaw
This 26-year-old singer who was previously incarcerated broke down in tears over the opportunity to audition for American Idol. Calvin performed "Falling Out" by Calvin Richardson. Katy told him it was a "new day." The judges voted to send Calvin to Hollywood.
Casey Bishop
This 15-year-old from a small town has no performing experience, which made her feel "intimidated." For her audition, she sang "Live Wire" by Mötley Crüe and "My Funny Valentine" by Sarah Vaughan. Luke compared her to Alejandro Aranda's audition, and said she would win the show. Casey got a Golden Ticket to Hollywood.
Yurisbel
This 25-year-old singer from Miami called himself a "walking empanada" that is "full of flavor." Katy called him a "Latin Luke" and a "Cuban Cookie Monster." For his audition, Yurisbel performed "Fireball" by Pitbull. Luke voted yes, Katy voted no, and Lionel voted yes, meaning Yurisbel is going to Hollywood.
CLAUDIA CONWAY EXPOSES WHAT REALLY HAPPENED ON 'AMERICAN IDOL' [VIDEO]
Chayce Beckham
This singer said his life "flipped upside down" in the past year, but added that "music was always there" for him through the hard times. For his audition, he sang "What Brings Life Also Kills" by Kolton Moore & The Clever Few. Lionel said Chayce was "believable," and Katy said he sounds like "the hearts of America." Chayce is going to Hollywood.
Ace Stiles
This 16-year-old performed an original song called "Addicted." Ace also shared his story of coming out as transgender. Luke wondered if Ace was ready for American Idol. Katy said he would get better with experience. Unfortunately, Ace won't be going to Hollywood, as only Lionel voted yes.
Cassandra Coleman
This 24-year-old singer is used to performing online rather than in front of people, and said her insecurities have held her back. She performed "The Way It Was" by the Killers. Lionel called her "angelic," and Luke said her voice is "God-given." Lionel also asked her to play piano for them, and she sang "Apologize." Cassandra is going to Hollywood.
5 FACTS ABOUT RE'H, THE 'AMERICAN IDOL' CONTESTANT WHO AIMS TO INSPIRE
Willie Spence
This 21-year-old singer got emotional as he spoke about his passion for music. He shared that he went from 600 to 400 pounds after finding out he had fluid in his lungs last year. Willie performed "Diamonds" by Rihanna. Lionel called his voice "unbelievable," and Luke said he "didn't want it to end." The judges voted to send Willie to Hollywood.
Let us know what you feel about this article