VOTE: Which Acts Should Come Back As 'AGT' Wildcards?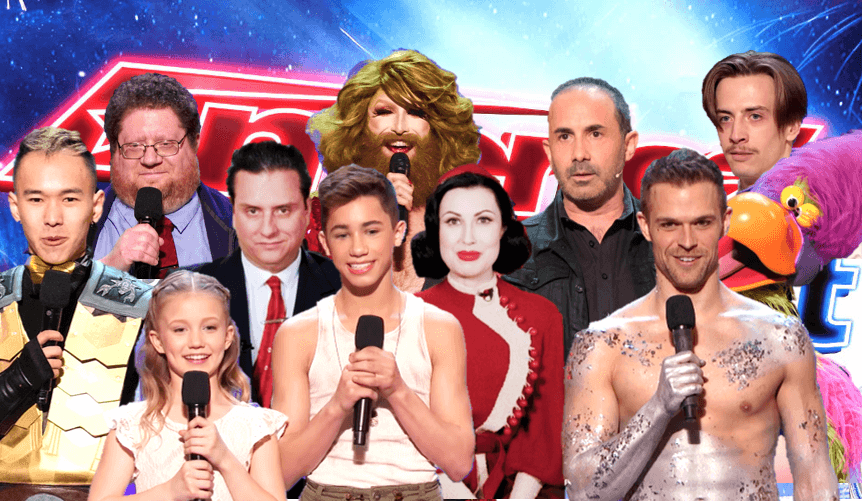 NBC
On week three of America's Got Talent Judge Cuts we saw seven more acts advance to the live shows, which means eleven acts went home. However, there are always the AGT wildcard spots up for grabs in the quarter-finals. Here's your chance to voice your opinion as to which act should have a second chance as the AGT wildcard. [SCOLL DOWN TO VOTE BELOW]
A lot of the Judge Cuts results tend to be pretty predictable. The show isn't able to fit video packages and performances for all 18 acts in each episode, so they tend to focus on those who have advanced to the live shows. So let's take a look at the results so far
Judge Cuts 1 Results
Looking at the first judge cuts episode these are the acts that were cut from the competition: Andy Rowell, Dakota and Nadia, Damiyr, Duo Togni, Dylan, Jecko, Kevin Schwartz, Loki Alohikea, Matthew Richardson, The Orange Magician and The Sentimentalists
The most likely act to return from this week is probably hoot acrobat Matthew Richardson. People loved him when the show released his audition early, connected with him when he told us about the loss of his father during judge cuts, and we don't have any acrobatic performers in the live shows yet. Right now, our money's on him to be one of the returning acts.
Judge Cuts 2 Results
In the second judge cuts episode these are the acts that were eliminated from the competition: Izzy & Easton, Adem Show, Michael Paul, Gingzilla, Olivia Caldaron, Aledine Bates, Valerie Sassyfras, Duo Fusion, Lamont Landers, Mat Ricardo and Verba Shadow.
This round of eliminations was much more controversial in the eyes of the fans, because some fan favorites went home. The biggest outcry online is about the kids dancing duo Izzy & Easton, Aisan dance group Adem Show, and shadow act Verba. We've seen dance wildcards before and all these acts gave good Judge Cuts performances, so we wouldn't be surprised at all if any of them were to make a comeback a few weeks from now.
Judge Cuts 3 Results
Simon Cowell predicts in this round of results that the fans won't like it. "They'll think we're NUTS!" he said before sending home a crying Ansley Burns. Then to top it off, they sent the Japanese tambourine dancer through to the live shows. This will not sit well with many fans, as Simon rightfully predicted. We wouldn't be surprised at all if any of these eliminated acts with be a wilcard a few weeks from now.
Judge Cuts 3 Results
No real shockers in the eliminations of the final week of Judge Cuts. During the final judgment, there was an off-script moment in which Simon Cowwll sent Benicio Bryant and fellow singer Jordan Ravi backstage, and it looked like he might have changed his mind in the last minute. In the end, only Benicio made it through. What happened there is up for your speculation.
Vote Here For The 'AGT' Wildcard Act
[interaction id="5d3606944a8beae3462e5a50″]
Now, click here to tweet your support
Use the contestants @ twitter handle in the empty area ? (For example: @izzyandeaston or @TheAnsleyBurns and so on:
But what we want to know is which eliminated act do you want to see return as the AGT wildcard? Matthew Richardson? The Sentimentalists? Perhaps even one-joke Karaoke singer Andy Rowell. There's no judgement here, this is a safe space among all the fans. The question is simply who do you want to see more from?
Did you see Julianne Hough confront Simon Cowell for his sexist habit? Watch here
Who would you like to see return to AGT as a wildcard? Vote in our poll above!
Let us know what you feel about this article