Unique 'America's Got Talent' Act Uses Heidi Klum As A Human Art Piece [VIDEO]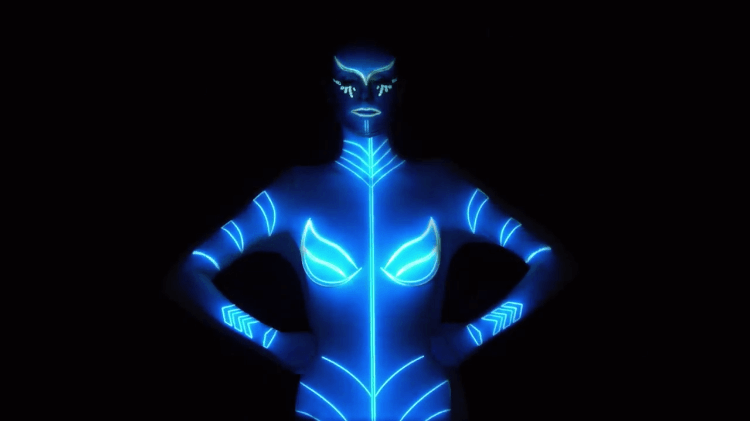 NBC
Heidi Klum is one of the most notorious models in the entire world and she is obsessed with Halloween. That is why 'AGT' act Oskar & Gaspar did not hesitate to use Heidi's gorgeous figure for their digital art audition. They transformed her into a human art piece that rivaled some of her best Halloween costumes. Check it out below.
Digital Art Act Oskar & Gaspar Used Heidi Klum For Their 'AGT' Act
This 'AGT' act specializes in video mapping and 3D projection. They called upon Heidi to join them for the act in which she changed into a white one-piece bodysuit. Heidi stood with her hands on her hips as Oskar & Gaspar worked their magic.
Digital images and videos began playing over Heidi's body. At on point, Heidi was even transformed into Mel B, Simon Cowell and Howie Mandel. The graphics then made her look like a tiger, a snake, a cheetah, an alien, a robot and much more. "I thought it was incredible," Mel B said. "There were so many things going on, so many outfits, so many morphs. It was a lot."
"It was so creative, so phenomenal" Howie said. "I could've watched that for much longer, it was wonderful."
SEE ALSO: UKRAINIAN DANCE GROUP PUTS THE GREATEST LIGHT SHOW EVER ON 'AGT' [VIDEO]
"Well this was sensational," Simon said. "I think it's the most original, most beautiful, incredible thing I've seen on this show to date and you were the perfect model," he said turning to Heidi.
While Heidi could not see what was going on since she was a part of the act, she asked the audience to help her vote. They overwhelmingly responded with applause and the judges voted them through to the next round.
Oskar & Gaspar performed in the Quarterfinals this time using two models as their art canvas to Josef Salvat's "Diamonds." The performance received a standing ovation from three of the judges but they did not receive enough votes to make it to the Semi-Finals.
Where Are They Now?
Sadly after appearing on 'AGT,' one of the leaders of Oskar & Gaspar, Guillaume Alatak passed away in November 2019. The group posted a tribute to him and announced his death to their fans on social media. "Guillaume was a lights designer and the lights he designed were visions of infinity," the post said. "Guillaume's best light was the one he had in himself, even when he was uptight, a pure and original light from a cosmic body."
Though the group hasn't posted on their YouTube account in a few months, they did post a video masterpiece to remind people to stay home during the coronavirus pandemic. They even played on the fact that toilet paper was so hard to find during the beginning of the pandemic. Check it out below.
The group also teased that they are working on something special with a group named Chapitô but could not give any further details just yet.
SEE ALSO: 'BGT' SHADOW THEATER SHARES EMOTIONAL LOVE STORY THAT WILL MAKE YOU CRY [VIDEO]
What did you think of Oskar & Gaspar's 'AGT' audition?
Let us know what you feel about this article