This Contestants 86-year-old Mother-in-law Gets Simon Cowell to Publicly Apologize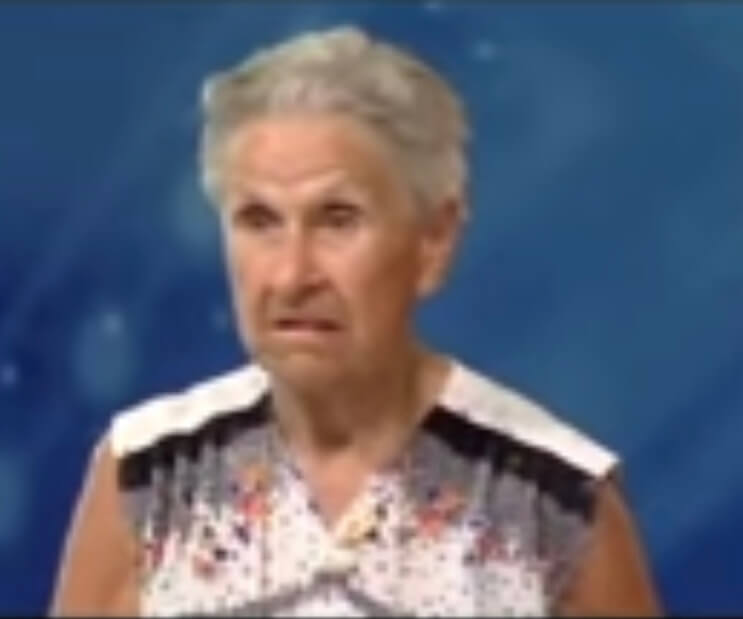 YouTube
Simon Cowell has been harshly criticizing contestants on X Factor for years. He is known for his inability to feel compassion for contestants and finally meets his match. 86-year-old Edna Moore accompanied her daughter in law Lorraine for her audition on X-Factor Uk. Things went south when Simon laughed at Lorraine's audition and Edna had to put him in his place, causing Simon to shockingly apologize for being rude. Simon never apologizes for his comments, so it was rather hilarious to watch.
Edna Embarrasses Simon
Lorraine having the support of her mother-in-law decided to audition for X Factor with the song "Begin the Beguine." Not even a couple of seconds into the song, Simon begins to laugh at the poor singer causing Edna to get annoyed with him. Simon who doesn't seem to care that he's being disrespectful continues to laugh at her and they eventually end her audition.
After all three judges tell Lorraine that she is not going to be going on in the competition, they both exit the room peacefully. A couple of seconds later Edna walks in, with music from the movie Jaws in the background so it was obvious she wasn't coming back in for a calm chat.
SEE ALSO: TOP 5 MOST ROBBED CELEBRITIES ON 'THE MASKED SINGER' OF ALL TIME
Edna Confronts Simon about laughing at her daughter in law but Simon is not having it. He tries to interrupt her a couple of times and she shuts him down immediately, "Listen, Simon, you think your better than anybody I think you are very ignorant. Yes, you are ignorant Simon." She says. Simon who is embarrassed ends up apologizing to her. Which surprises judges, Sharon Osbourne and Louis Walsh.
Following this, he gets up and leaves the room, where the judges make fun of him backstage. They ask him how does it feel to be attacked by an 86-year old woman. Simon tells them he feels extremely small, "I feel about that big," he says.
Edna did what many people thought was impossible, bringing Simon down from his pedestal. "Why these girls scream over him? He's not even that good looking" She tells the camera afterward.
Edna and Simon Cowell Reunite
Following the controversial moment, Edna Moore became really popular. The 86-year-old was invited to the finale of X Factor, to introduce those who failed their auditions including her daughter in law Lorraine. This time though she came to embrace Simon. "First I'd like to apologize to Simon's mum for what I said to Simon. But I don't want to apologize to him. I am here to introduce all the people that Simon shouldn't have laughed at, all the real stars of the show: the X-Factor auditionees."
SEE ALSO: AMERICAN IDOL REJECT REUNITES WITH SIMON COWELL ON 'X FACTOR' 10 YEARS LATER
Edna asked Simon to join her on stage for a hug and a kiss and he apologized again in front of the cheering crowd. Edna is the only person to ever get an apology from him, twice!
Let us know what you feel about this article