'The Voice' Winner Jake Hoot Is Engaged! Meet His Fiancée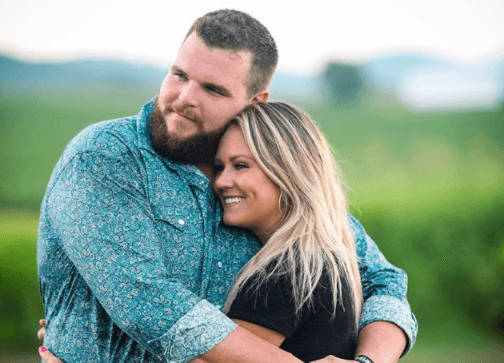 Instagram
Congratulations to The Voice Season 17 winner Jake Hoot! The country singer from Team Kelly Clarkson recently got engaged to his girlfriend Brittney Nicole Hoyt, and the pictures are adorable.
The 32-year-old talked to People magazine about the engagement, which happened on September 20 while the couple was in Brittney's hometown of Phoenix, Arizona. Check out the photos below, and read what Jake had to say about the happy moment.
Jake Hoot Gets Engaged To Brittney Hoyt
Brittney, also 32, is a labor and delivery nurse who runs a nonprofit called The Radiant Initiative. Jake surprised Brittney by getting down on one knee in front of her family and his own mom.
RELATED: JAKE HOOT: HOW THIS ONE CHAIR TURN WON 'THE VOICE'
″I knew how important being around family was to Britt, and with her birthday coming up, I knew it would be the perfect time to do it!″ Jake said. ″She's one of seven, so arranging everyone to fly in and it still be a surprise was tough, but we all coordinated how it would happen, and it went off without a hitch!″
Brittney apparently figured out what was about to happen when she saw her family there. ″She lost it! I had to keep her moving forward because she was crying and trying to fall down on me!″ he shared. ″Then after I popped the question, we were both so emotional that I almost had to wrestle her arm to put the ring on her hand!"
The couple met seven years ago as wedding singers for a friend's nuptials. They later reconnected doing missions in Nicaragua. ″Her heart for others and love for God made me fall in love with her," Jake said. "I'm so glad God blessed the broken road that brought us back around to each other numerous times!″
Brittney Has A Great Relationship With Jake's Daughter
Jake has a 5-year-old daughter named Macy from a previous marriage. It sounds like she and Brittney have a great relationship. ″Macy LOVES Brittney!″ Jake told People, adding that he asked her ″numerous times″ what she thought about him proposing, and she told him "yes."
RELATED: KELLY CLARKSON AND JOHN LEGEND HAVE THE ULTIMATE PLAN TO BEAT BLAKE SHELTON ON 'THE VOICE'
The singer also shared that he and Brittney are looking forward to "expanding our family." Brittney agreed, saying, "I'm excited to buy a house, build a family, travel, do missions, make music and love each other for the rest of our life."
As for the engagement ring, Brittney says it's her "dream ring," adding, "A striking oval diamond with small dainty diamonds all around the band. It's more than I could've ever dreamed of."
Jake isn't the only recent Voice winner to get engaged. Season 16 winner Maelyn Jarmon got engaged to her boyfriend Johnny Murrell last year. Congrats to Jake and Brittney!
Let us know what you feel about this article