Surprise! Twins Brie And Nikki Bella Give Birth Just 1 Day Apart [Pictures]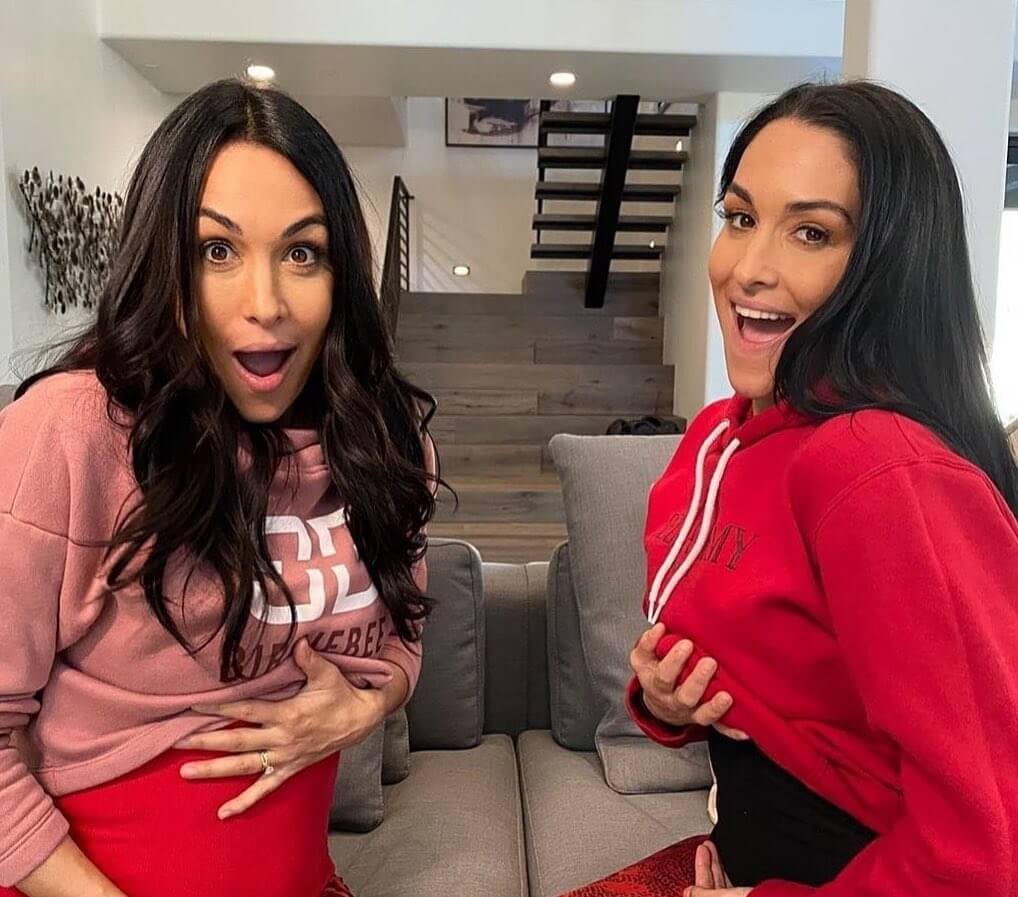 Instagram
Twins Brie and Nikki Bella have done everything together in the past like have a successful start in the WWE and create several businesses together. Now they can check being pregnant together off the list. The Bella twins welcomed their babies just one day apart and shared nearly identical Instagram posts to announce their arrivals.
Earlier in July, Brie posted a picture with her sister including a caption asking which one of them fans thought would give birth first. Well, now we finally have answers.
Brie And Nikki Bella Both Give Birth To Healthy Babies
Nikki became a mom for the first time as she welcomed a son with her fiancé and former Dancing With The Stars partner Artem Chigvintsev. The pair met on the show after being paired up in 2017. She gave birth first ahead of sister Brie who is already a mother to three-year-old daughter Birdie. Nikki took to Instagram to share an adorable shot of her and Artem holding their babies hand. "7/31/2020 Our baby boy is here and we couldn't be HAPPIER and more in LOVE! Everyone is safe and healthy" she captioned the photo.
Brie posted a nearly identical photo announcing the birth of her baby boy with WWE superstar husband Bryan Danielson. They also welcomed a baby boy whose gender remained a surprise until Brie gave birth. Her caption said "It's a BOY!!! 8-1-2020 We are overwhelmed with joy and everyone is healthy!!!" The posts confirm the babies were born just one day apart.
SEE ALSO: NIKKI BELLA SHOWS OFF HER HUGE 'CUTE' PREGNANT BELLY AND PREDICTS HER MOMS REACTION
Nikki Was Gushing On Twitter Talking About Giving Birth
Nikki took to Twitter to talk about how she is already loving motherhood. "The last few days have been truly incredible! Such a beautiful learning experience, still is, and wow a love like this! Everything you all have said it would be! I've never smiled so much with such little sleep. I'm in heaven! I'm so happy!!" she wrote.
"And @artemchigvintse is the best Dad! Our baby boy is so lucky. I didn't think I could love him even more… but goodness I fell more in love with him the past few days. I feel so blessed. Can't wait for the day to officially makes us a family" she continued hinting at getting married in the near future.
"And how about that tag team!! I can't believe Brie & I had boys less than 24 hours apart! Honestly only us! lol And that I beat her. As you can imagine everyone said it was my baby & mines competitive side that kicked in! I can't wait for our Bellas Boys to grow up together!" she said.
Fans Are Freaking Out That The Bella Twins' Babies Are Just One Day Apart
It's not every day that twins give birth just 24 hours apart from each other. The Bella Army is in complete shock and is living for the fact that the baby boys can grow up to be best friends much like their mothers are. Brie's due date was actually believed to be. a little earlier than Nikki's, but Nikki ended up giving birth first.
Fans first speculated that Nikki gave birth after she didn't post her pregnancy journey on her Instagram story for a few days. And, they were right.
Other fans are full of joy as Nikki has finally got everything she dreamed of from being a future wife to motherhood after her long relationship with wrestler John Cena ended in heartbreak in 2018. The pair were engaged after five years of dating but ultimately called off their wedding as Nikki's dream of having kids was not something John wanted.
SEE ALSO: NIKKI BELLA REVEALS HOW HER DADDY ISSUES IMPACTED HER RELATIONSHIP WITH JOHN CENA
Congratulations to both Nikki and Brie for this new chapter in their lives and we can't wait to see their boys grow up to be best friends.
Let us know what you feel about this article