Simon Cowell Is Selling His LA Bachelor Pad To Focus On A Simple Life With His Family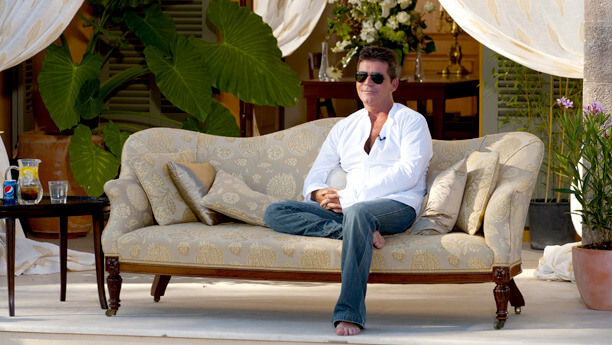 NBC
It's been 16 years since Simon Cowell purchased his Los Angeles California mansion, and now he's finally ready to let it go. The America's Got Talent judge is reportedly selling the $20 million to focus more on his life with partner Lauren Silverman and their six-year-old son Eric. Check out a tour of the house below that was featured on an episode of MTV Cribs.
The fact that Simon was even sassy while given his house tour is everything. He never lost touch with the personality he built being on television for years.
Simon Cowell Is Selling LA Pad For Quiet Life With Lauren Silverman And Eric
Simon's six-bedroom mansion was purchased back in 2004 when he was in an on-again-off-again relationship with reporter Terri Seymour. During this time, he was also seen getting friendly with some of his ex-girlfriends on vacations and trips, seemingly not ready to give up the bachelor lifestyle just yet. The home is complete with its own movie theater, gym and spa. The house is absolutely gorgeous and Simon had his fair share of staff working round the clock to make sure it was kept clean along with having people to cook for him. We have seen this house numerous times on shows like The X Factor during the judge's home round. He has continuously renovated the home with an eight-car garage and a wet bar outside.
So why is Simon selling his home? "Simon absolutely loves this house, and for a while, it was his dream home," A source told The Sun. "But also it holds one too many showbiz memories. Now that he has a son and a long-term partner, he wants to lead a simpler life. [He wants to] create new memories not revolving around rock n' roll, TV or parties." Simon and Lauren have been together since 2013 and it genuinely seems like Simon has settled into a more calm and quiet lifestyle in between jet setting all over the world for shows like America's Got Talent and Britain's Got Talent.
SEE ALSO: THE ONLY TIME SIMON COWELL BROKE OFF HIS ENGAGEMENT AND HAS NEVER GOTTEN ENGAGED SINCE
Simon Is Starting A New Chapter In His Life
News of selling this home comes after it was announced that Simon would be walking away from Syco Music. He will focus his attention on Syco Entertainment which owns the 'Got Talent' franchise that has garnered millions of fans all over the world. Simon, Lauren and Eric have spent quarantine in his $24 million Malibu mansion complete with a tennis court that he purchased in 2017. More recently, Simon was reportedly looking to buy a house in Barbados, one of his favorite vacation spots. Simon has always viewed Barbados as an escape from his hectic life, often visiting during Christmas time.
SEE ALSO: TAKE A LOOK INSIDE SIMON COWELL'S $24M MANSION THAT HE HAS BEEN LIVING IN WITH FAMILY DURING QUARANTINE
Simon will be keeping his properties in Malibu, a mansion in London and another place in New York City as he moves on to have a quieter life outside of the hustle and bustle of Hollywood with his family.
Let us know what you feel about this article