Oops! Did Howie Mandel Reveal His Golden Buzzer On 'AGT: Champions'?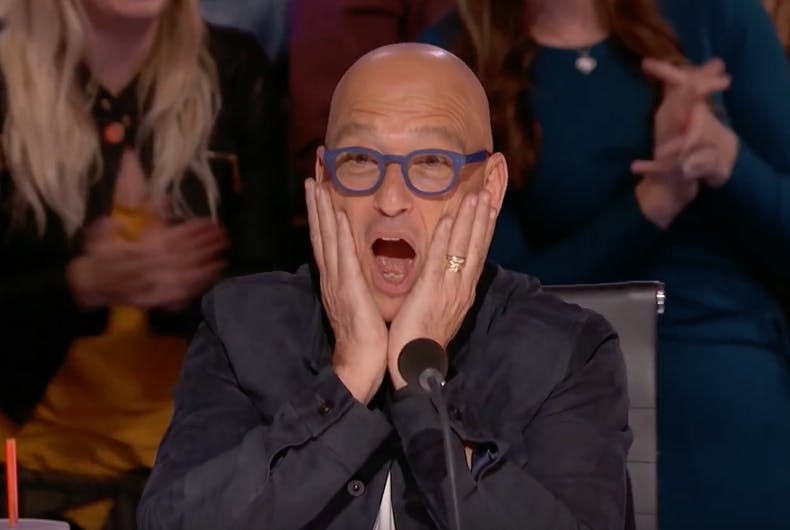 NBC
The short answer is, no, Howie Mandel didn't outright reveal his Golden Buzzer, but he dropped a major clue. In week two of AGT: Champions Simon Cowell shocked America and stole Howie Mandel's Golden Buzzer, which leaves us wondering who will he pick as his golden buzzer, keep reading to find out more.
Are V. Unbeatable, Howie Mandel's Golden Buzzer?
So while interviewing Howie Mandel, Talent Recap's host Jacklyn, who happens to be Howie's daughter asked him about his favorite acts and he mentioned that V Unbeatable is his favorite.
Now keep in mind, no judge on America's Got Talent has ever called any act their favorite if that act wasn't their golden buzzer, which to us is a dead giveaway.
5 FACTS ABOUT INDIA'S V. UNBEATABLE. CAN THEY WIN 'AGT'?
In the same interview, he also asked the same question we all have been asking for a while, "Are they dancers, are they acrobats, is it a danger act? It's all rolled in one…"
We feel the same way Howie, we really do!
V. Unbeatable's Chances of Winning 'AGT Champions'
The Mumbai-based dance group V Unbeatable, that came 4th in America's Got Talent Season 14 finals will be on AGT: Champions and that has caused quite a stir amongst fans. V Unbeatable Fans were angry that they came in 4th and not second, taking to Twitter to express their feels.
V UNBEATABLE: THE UNTOLD STORY OF INDIA'S DANCE GROUP FROM THE SLUMS OF MUMBAI TO 'AMERICA'S GOT TALENT: CHAMPIONS'
To have them back has made a lot of AGT fans happy and they are set to perform Monday night.
Can V Unbeatable win AGT: Champions?
First of all, let's look at history. America's Got Talent has been on the air for 13 years and not once, I repeat myself, not once has a foreign group won the title. The same goes for AGT: Champions that although has had only one season is still part of the same franchise.
'AGT: CHAMPIONS' ROUND 2: SIMON STEALS HOWIE'S GOLDEN BUZZER!
Can India's dance group V. Unbeatable beat that record on AGT: Champions and take home the trophy? Let us know in the comments down below!
Let us know what you feel about this article