Internet Divided Over Joaquin Phoenix's Oscar Speech — Who's Side Are YOU on?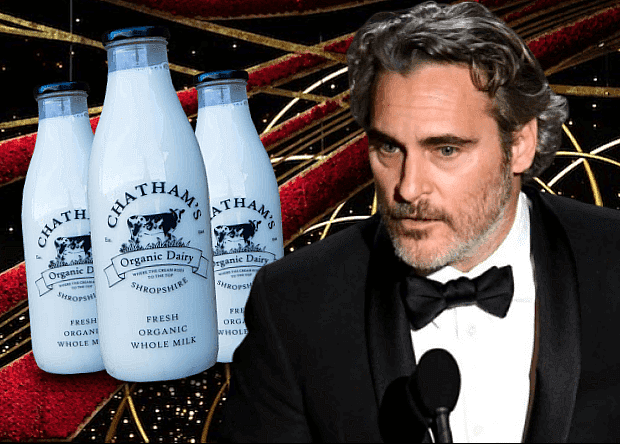 GettyImages
This year's Oscars night taught us a lot of lessons. Joaquin Phoenix was among the many memorable moments, delivering a powerful speech on the dairy industry. Speaking on the 'voiceless', Pheonix used his time on stage to bring light to animal equality. Here's why not everyone shares Joaquin's concern.
BGT 2020: ESCAPIST NEARLY DROWNS TO DEATH AS ACT GOES HORRIBLY WRONG
Joaquin Phoenix's Oscar Speech
Joaquin Phoenix deserves every second he was given on the Oscars stage last weekend. And, whilst many claim the actor speaks from a place of entitlement and privilege, it's beyond clear that he is using his voice to unite.
Take his opening words for example. "I do not feel elevated above any of my fellow nominees or anyone in this room, because we share the same love". Touching on inequality within society is common on the Academy Award stage, but somehow Joaquin is left untouched from criticism. And quite rightly so.
"We feel entitled to artificially inseminate a cow and steal her baby, even though her cries of anguish are unmistakeable. Then we take her milk that's intended for her calf and we put it in our coffee and our cereal." the actor continues. It seems even mentioning forced insemination and separation of young cows has erupted a sense of fury among those too weak to even comprehend ideas of animal cruelty.
The New York Post released a headline this week, regarding Joaquin as a 'disgrace', 'rambling like a street bum'. Although such statements are bound to attract attention, it seems Phoenix is beyond it all. And, whilst Joaquin would never dream of classifying himself as a hero, the 'voiceless' are now at the forefront of public attention.
THE REAL WINNER OF THE SUPER BOWL WAS 'THE MASKED SINGER'
Social media's Divided Over Oscar Speech
See?… Even cows are celebrating Joaquin's Oscar moment!
Although negativity has floated around, one user responded to the speech calling it 'brave'. 'I wish more celebrities got off their political high horse and become truly compassionate just as Joaquin Phoenix is. And brave too, speaking like this at the Oscars', the user wrote.
"Just saw an omni respond to Joaquin Phoenix's speech on dairy and say
"Vegans need to get over it, it's nature"
Right because humans artificially inseminating cows and confining them to milk machines is natural.
How NATURAL."
"Email from a retired Australian dairy farmer reacting to Joaquin Phoenix's rant against milk. This is a work of art."
"Taking a break from my drum beating about being decent to consumers and to say….

I think Joaquin Phoenix is a pompous, entitled, first-world, out of touch, value signaling troll, and re-wearing a suit and throwing shade at cows shouldn't make him an environmental expert."

"So I watched his speech. Now I wonder if he is a pedo, guess to be safe I will not see another of his movies. I wouldn't want to unknowingly support a pedo."
WHY DOES AGT TEEN STAR ANGELINA JORDAN PERFORM BAREFOOT?
Let us know what you feel about this article