Fans Say Goodbye in OUTRAGE to 'X Factor: Celebrity' As The Show Falls To Pieces!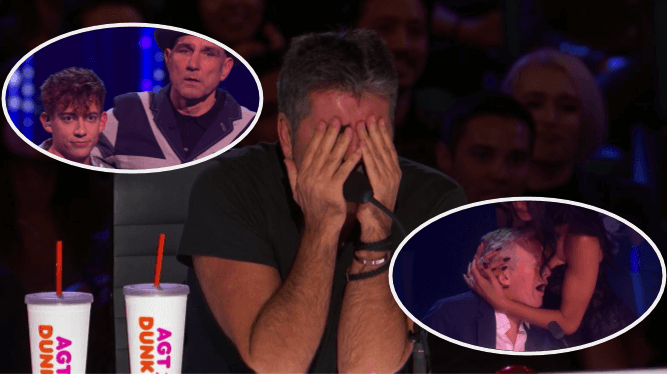 NBC/ITV
It was a night that left X Factor trending on Twitter with outrage amongst fans. Could this be the end of 'X Factor: Celebrity'? Here's a closer look into the most shocking moments of last night's show.
First up, the safe seats are gone!
Yes, that's right. The safe seats, that guaranteed three contestants a place in next weeks show, are gone! Simon spoke about this change before last night's live shows kicked off saying that many people on Twitter wanted them gone so he… got rid of them! Nevertheless, the other judges didn't seem too bothered by the change.
Nicole is DATING one of the contestants?
It seems Try Star's Thom Evans is quite the man for Nicole. Insiders have mentioned that both Nicole and Thom have spent evenings together, going out for dinner. This isn't unusual, however; Thom has had his eyes on Nicole before they even auditioned in Malibu! Insiders have also mentioned that both of them are keen to see where their relationship takes them once the show wraps up.
Nicole is accused of 'motorboating' Louis live on air
We're not joking! Nicole was a wild character tonight on the show, putting her breasts in Louis' face. Although Simon didn't seem to phased, viewers at home were furious at her lack of dignity on a family show.
[interaction id="5dd304abd42ed3338c3f9a2b"]
Vinnie steps down but is forced to continue
Last night saw a sing-off between Vinnie and Kevin. It was clear who had won it, which led Vinnie to express his gratitude for his time on the show but wanted to step down to allow Kevin to go through. An admirable moment, but Simon wasn't impressed.
As Vinnie said he was stepping down, Simon furiously shook his head and still decided to vote Kevin off the show. Twitter exploded in uproar at this very decision and we believe this might be the deal-breaker that will leave the show in ruins.
Vinnie Jones has a golf competition coming up which is the reason he is keen to exit the show. We're not 100% sure, but this might be the 1st time a contestant has ever stepped down.
Is 'X Factor: Celebrity' over?
Simon did explain, in the promo of the show that this was just one big experiment. However, he hasn't played the cards well over the live shows and that's led to astonishingly low ratings. The fact of the matter is, people, don't want celebrities on the show! With just two episodes left, (the semi-final and the final) let's pray nothing crazy happens!
Speaking of Nicole Scherzinger and drama, here's what she just posted on her Instagram:
X-Factor continues next Saturday for the semi-final on ITV & AXS TV.
Want to watch an all-new episode of the Talent Recap Show? Click HERE to watch!
Let us know what you feel about this article