Fans Convinced 'Adele And Katy Perry Are Literally The Same Person' — What Do You Think?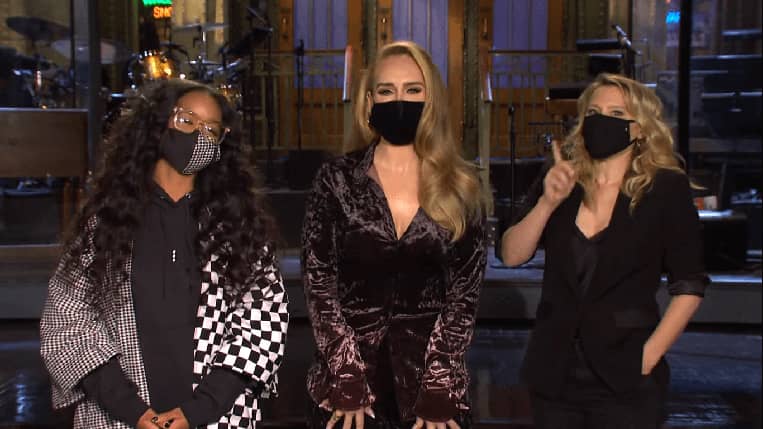 Saturday Night Live YouTube
Adele is finally returning to the spotlight this weekend, as she makes her SNL hosting debut on Saturday. The singer appeared with cast member Kate McKinnon and musical guest H.E.R. in a new promo for the show but before we get into the details of the show, take a look at fans comparing Adele to Katy Perry and the similarities between both these amazing singers.
There's been a lot of talk about Adele's new look in recent months but we did not see this comparison until this Tweet… Do you agree?
Could she by trying out a new accent as well? Check out her new SNL promo below to hear what her American accent might sound like.
Adele Shows Off An American Accent On 'SNL'
During the first clip, there's a little confusion about who Adele is referring to when she says the musical guest for this weekend is H.E.R. "With her or her?" Kate McKinnon wonders. Even H.E.R. is confused, thinking Adele means Kate.
RELATED: WATCH SINGER CAPTIVATE AUDIENCE ON 'THE VOICE PORTUGAL' WITH HUGE ADELE HIT
Later, Kate decides to try out her best English accent to match Adele's. "Tune in, it's fit to be wicked…" she starts, before deciding she shouldn't continue, calling it a "bad idea." However, Adele chimes in with her own American accent, which sounds like Janice from Friends mixed with a Valley girl and a Southern belle.
She may need to work on that a little bit, but she'll likely have a chance to practice during Saturday's show. Since Adele is the host and not the musical guest, she'll appear in several sketches throughout the night. We can't wait to see her show off her funny side.
Adele Has Changed Her Look In Recent Months
After a months-long break from social media, Adele shocked fans in May when she posted an Instagram photo showing off a slimmer frame. As the singer continued to post new pictures, some fans thought she looked unrecognizable.
RELATED: SINGER ADELE PROMISES YOU'LL 'NEED TO PEE' AFTER WATCHING THIS
The singer reportedly lost 100 pounds using the Sirtfood Diet, as well as working with a trainer, cutting down on alcohol, and quitting smoking. Of course, Adele's changed look inspired an array of comments, from compliments to claims that she's too skinny to reminders that she looks beautiful at any weight.
Adele also caused some controversy in August after she posted a photo of herself with her hair in Bantu knots, wearing a Jamaican flag bikini top for the Notting Hill Carnival. Some accused Adele of appropriating Black culture. Others argued it was appreciation.
The singer has certainly surprised us a lot this year. Could her final surprise be an announcement of new music? Many fans think the follow-up to her 2015 album 25 is on its way. Fingers crossed we'll find out when Adele appears on SNL this weekend.
Let us know what you feel about this article