Demi Lovato's SECRET Boyfriend Isn't Shying Away From Making The Relationship Known
Instagram
According to new reports, it seems Demi Lovato has already found a new man, just three months after her breakup with Austin Wilson. We can say with almost no doubt, that Demi's new boyfriend is Max Ehrich. Here are the clues!
Demi Lovato's new boyfriend is Max Ehrich
According to new reports from US Weekly, Demi met the 27-year-old, 'a few weeks ago'. Ever since the two of them have been spotted shopping in Calabasas and self-isolating together. Also, check out these Instagram posts by Max, singing covers for Demi that have us convinced the two are official.
SEE ALSO: VIDEO: TERRY CREWS OPENS UP ABOUT HIS PORN ADDICTION — HIS PLEA TO QUARANTINED PEOPLE
A source spoke to E! on the relationship claiming that "he is a good influence on Demi and they have a lot in common. They have a few mutual friends in common, but Demi has been introducing Max to her closest friends via Facetime since being quarantined. It's very new but they are definitely hanging out and seeing where it leads. They have spent a lot of time together, but I wouldn't say it's an exclusive relationship yet."
Singing 'Let Me Love You', Max captioned the post with, 'to my <3'. Demi Lovato was quick to reply with a heart.
"When u realize u should've packed more for your quarantine stay — have a blessed Monday filled with health, happiness, safety, joy, love & laughter <3", Max captions his latest shirtless pic. Lovato replied to the post letting Max know that's it's "Fine by me…" Still don't trust us when we say the two are together? Here's another clue…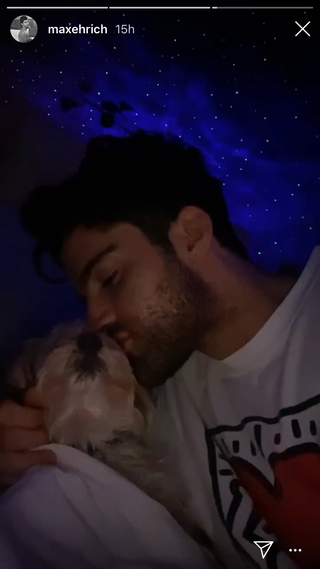 Max posted to his Instagram story rather recently, a video of him relaxing with Demi's two dogs.
SEE ALSO: KATY PERRY SPILLS ON PAST FAILED RELATIONSHIPS AND SECRET SAUCE KEEPING ORLANDO BLOOM AND HER TOGETHER
Demi Lovato was recently forced to leave her apartment due to Coronavirus
Earlier this month, it was reported that Demi was forced to leave her apartment after a resident in the building tested positive for Coronavirus. She shared the news on Instagram, saying: "I moved in with my family because I live in an apartment building, and the building, actually — somebody in the building tested positive. Like a guest that was there, so I had to get out. So, I left, and I'm here."
Let us know what you feel about this article