'The Voice's DeAndre Nico Speaks Out After Controversial Elimination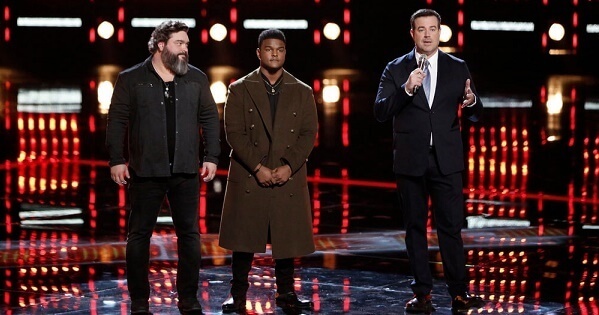 TYLER GOLDEN/NBC
This has been quite a week of controversy for The Voice! Here's the short rundown of it. Tuesday night in the Instant Save, Dave Fenley and DeAndre Nico sang for their lives. Reagan Strange, who was also in the bottom three on Team Adam, was sick and unable to perform. When it came time for Adam to give feedback on DeAndre's Instant Save performance, he instead used his time to advocate for Reagan. Oof.
Since then, The Voice has been receiving a lot of backlash online. From fans talking about who will replace Adam as a coach to viewers questioning Reagan's ability to sing, everyone has something to say about this. But now, we finally get to hear from DeAndre Nico himself. And, unsurprisingly, he wasn't too happy.
DeAndre Nico spoke to his local NBC station, 12 News in Beaumont, about the controversy. He said:
"It was just weird. Not being rude, I just feel like he sold me out. And I just don't respect it, just being honest. We did our job, sick or not. I just got over laryngitis and when I came back, I still sang. It wasn't none of that anxiety or none of that stuff. I know she's a little kid but…you could've put some words in for me at all. Something."
And we can't help but agree with him. We've seen plenty of artists overcome sickness on these shows and still perform. As DeAndre said, he himself just got over laryngitis! He also hints that Reagan's inability to perform was due to anxiety. If that is the case, it makes the whole situation even more difficult. Did she think that performing would hurt her chances of being saved? Could she not even attempt to perform? Yes, we've seen meltdowns before in Instant Save performances, most notably when Korin Bukowski had to sing for her life for a THIRD time in a row and could barely bring herself to vocalize, but there has always been a performance. Is this even fair? Is not performing really an option?
Well some other alumni of The Voice had something to say about it too!
https://www.instagram.com/p/BrDjjVqluCm/
Miya Bass was a contestant on Team Adam then Team Alicia last season. She was eliminated in the Knockouts. Miya spoke out too by re-posting the video originally posted by Rayshun LaMarr (also on Team Adam last season), saying she and many other contestants were sick during the show's tapings but powered through because their lives as musicians literally depended on it. Many had quit their jobs, spent time away from their families, etc. to be where they were. So not performing was not an option. Other former contestants chimed in in the comments as well, like Terrence Cunningham, WILKES, TSoul, Dylan Hartigan, and Jackie Foster.
Overall, this was not a good move for Adam. And the internet is making him pay for that! But more than that, poor DeAndre Nico gets eliminated after singing his heart out on another John Legend hit, "All of Me." He deserved this spot in the Top 8, if not for his talent alone, for his ability to perform.
https://www.youtube.com/watch?v=ZHu24K8QE5w
Let us know what you feel about this article