David Walliams Kicks Off Last Day of 'BGT' Auditions Dressed Up As The Queen [VIDEO]
ITV
In true David Walliams fashion, the BGT judge and comedian had to end this year's auditions in style. Dressed in full royal attire, Walliams shocked the entire audience in the theatre with his entrance dressed as Her Majesty!
STUNNING PERFORMANCE ON 'BRITAIN'S GOT TALENT' TEACHES VALUABLE LESSON ABOUT SAVING THE PLANET [VIDEO]
David Walliams' royal entrance on 'BGT' stuns the audience
David Walliams made quite the entrance to auditions tonight in his BEST outfit to date! The Britain's Got Talent judge stunned both the judges and the entire audience at the theatre as he flew from the roof in full royal attire.
One judge that wasn't impressed by the overly dramatic entrance was Simon Cowell who couldn't help but sit in dismay. "You know this is now getting out of hand," he murmured to Amanda as David made his swift descent to the stage.
RELATED: BGT: MOTHER AND DAUGHTER DUO STEAL AMANDA'S HEART AFTER OPENING UP ABOUT CANCER BATTLE
We can speak for all of us when we say David Walliams and his antics never get old.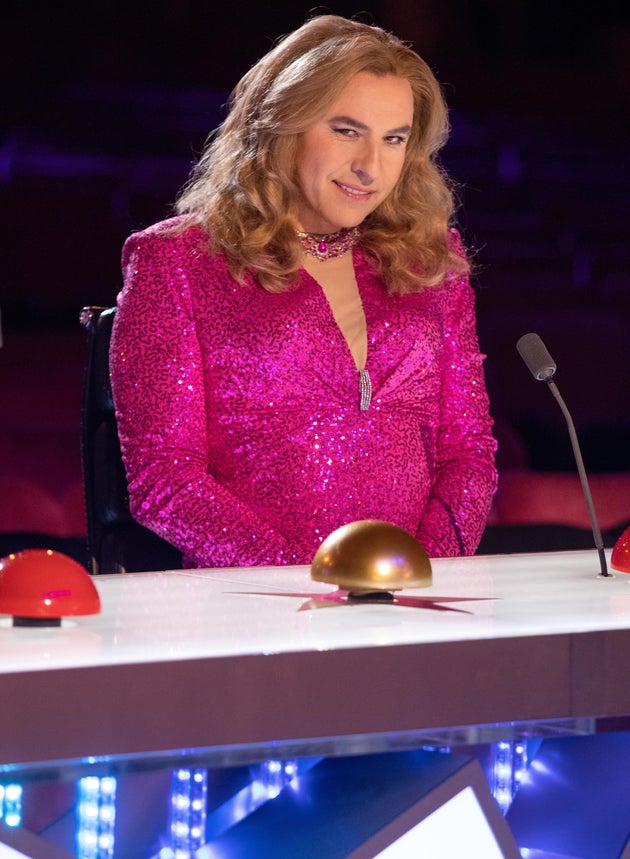 David Walliams recently hosted the National Television Awards and used the opportunity to take a hit at his fellow BGT judges. The comedian dressed in stereotypical outfits of Simon Cowell, Alesha Dixon and Amanda Holden and filmed a short segment for the award show, which later went viral across the UK. Watch the full clip below.
Could the Britain's Got Talent Judge Cuts segment go ONLINE?
Britain's Got Talent has kept us sane for seven weeks now but will now come to a close. With auditions done and the semi-finals set to air this Autumn after being postponed due to COVID-19, Simon is keen to get the show running as soon as possible.
RELATED: SIMON COWELL STOPS UNDERWATER ESCAPE ACT AFTER CONTESTANT NEARLY DROWNS ON 'BRITAIN'S GOT TALENT'
As the last day of auditions in Manchester came to a close, Cowell reassured the theatre audience that they'll 'meet again' in the near future. And, whilst we can't be certain that the show will run as per the current schedule, it's possible that the show may go online for decision time as the judges negotiate on who deserves a place in the live shows.
Let us know what you feel about this article