Dancer Runs Off Stage CRYING In Anger After Audience Mocks His Act On 'BGT' [VIDEO]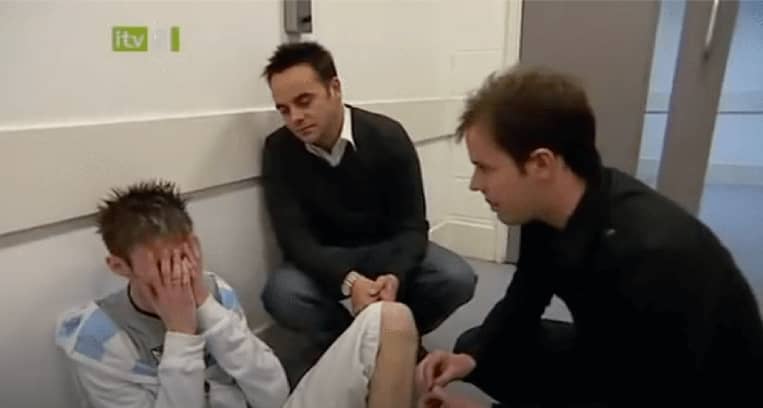 ITV
Dancer David Williams was confident heading onto the Britain's Got Talent stage during his audition in season two. But his performance definitely didn't go as planned and it involved a lot of tears and expletives. Check out his cringe-worthy audition below.
The 'Britain's Got Talent' Audience And Simon Cowell Made David Williams Cry
David, 21, said that one of his biggest dance inspirations and heroes is Justin Timberlake. If there's one thing Justin is known for, it's his sexy dance moves and the way he captivates the audience. David was looking to do the same. Immediately, the audience began laughing at him when he did not know what to do with the microphone stand before starting his act. His dancing was…well it wasn't good. Amanda Holden was laughing for the few seconds that David actually got to dance.
He then got three simultaneous red buzzers from the judges that stopped his performance. He looked like he was completely in shock. "David the truth is, you are completely and utterly useless," Simon Cowell said after the lackluster performance. The audience began to laugh at him.
SEE ALSO: WATCH SIMON COWELL TERRIFIED FROM THE SCARIEST DANCE ACT EVER ON 'BRITAIN'S GOT TALENT'
This caused David to get upset and run off the stage but not before telling everyone to "f*ck off." Ant & Dec found him backstage crying. "They all f*cking made a mockery of me," he said. He also went on to say that he feels "stupid" and that he regretted swearing at them. Ant & Dec said that they would bring David back onto the stage so that he could apologize for his behavior.
His apology was met by mixed reviews from the audience, leaving him frustrated. "It's not always going to go your way. This is show business" Amanda said. The audience began singing "Cheerio" and David left the stage once again out of frustration. David promised he would keep dancing and would one day show Simon who's boss. But before he left the show, he told the camera to "f*ck off" one last time.
David Faced Bullying Online Via YouTube Comments
After his Britain's Got Talent audition was posted on YouTube, David saw a ton of backlash and harsh comments. "On the website, people are saying I'm a cry baby and I'm an embarrassment to Shrewsbury. There are about four or five different versions" he said in an interview. "These comments are making it painful for me. I have already had a lot of grief from people who saw me on television." He also said that the comments were "horrible" and he began to regret auditioning in the first place.
SEE ALSO: 77-YEAR-OLD ROCKSTAR DRUMMER LEAVES SIMON COWELL SPEECHLESS ON 'BRITAIN'S GOT TALENT'
After this bizarre performance, it's pretty safe to say that David never got the chance to show Simon who's boss. It definitely sounds like he is no longer dancing, and pretty much has no trace of himself on the internet. One thing that is reassuring though is that recent YouTube comments call the audience's reaction to David's performance uncalled for. Could there be a comeback for David and his smooth moves? That isn't likely, but at least now people are acknowledging that any form of bullying is not cool.
Let us know what you feel about this article