Watch: Blake Shelton Confronts Shania Twain Over 'The Voice' Rival Show 'Real Country'
NBC
Last night on The Voice, former adviser Shania Twain made a special guest appearance! But this time around, it was to promote her new show, Real Country. She and coach Blake Shelton got into a heated debate about the rivaling shows and who is REAL country. And about the talent on each of their shows!
Watch the two talent show judges duke it out here and decide for yourself:
WHOA! Watch what happened when @ShaniaTwain steps into @blakeshelton territory on @NBCTheVoice to talk about her rival show @RealCountryTV!! (Hope they didn't meet in the parking lot after the show👀) pic.twitter.com/njVxBEf9xx

— TalentRecap (@TalentRecap) November 20, 2018
It's interesting that The Voice would promote Real Country at all, since they are rival shows. But they are both under the umbrella of NBC Universal, so it makes sense here. Also, they have a similar fan base and don't directly compete with each other, since Real Country airs after The Voice Tuesday nights on USA Network. Shania was very excited about the new country music talent show in her appearance on The Voice though! She bragged about the talent on the show and her fellow judges, Travis Tritt and Jake Owen. She also said we'll have some celebrity appearances from country superstars like Wynonna Judd!
Blake then said, "Don't be taking country artists from this show to your freaking show, Shania!" But Shania reassured him that "there's plenty to go around." And that seems to be the sentiment here. Realistically, there is only room for a handful of country artists every season on The Voice. So having a show like Real Country that specifically focuses on country music is genius. This is especially true considering the new series tapes in Nashville, at the heart of it all. Real Country also allows groups and bands to be a part of the show, in addition to solo artists. But it seems like the newcomer is saying, "What you're doing on The Voice is great and all, but this is REAL country." And you really can't argue with that! Their show has a lot more diversity when it comes to showcasing country music.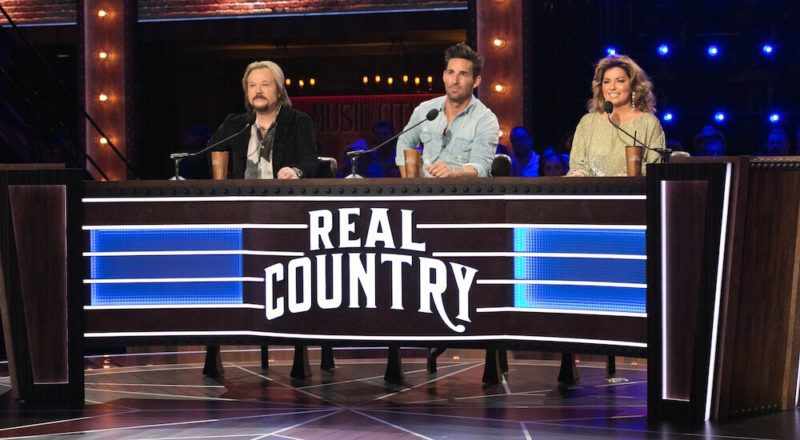 So who is more country between Blake Shelton and Shania Twain? Well I think there are arguments on both sides here. So you decide for yourself! We even have a Twitter poll going right now to see what our fans think! To see more, watch Real Country on Tuesday nights at 10/9 Central on USA Network.
https://mobile.twitter.com/TalentRecap/status/1065012760382189569
Let us know what you feel about this article