'BGT' Recap: 'Britain's Got Talent' Semi-Finals: Laughter and Danger Galore!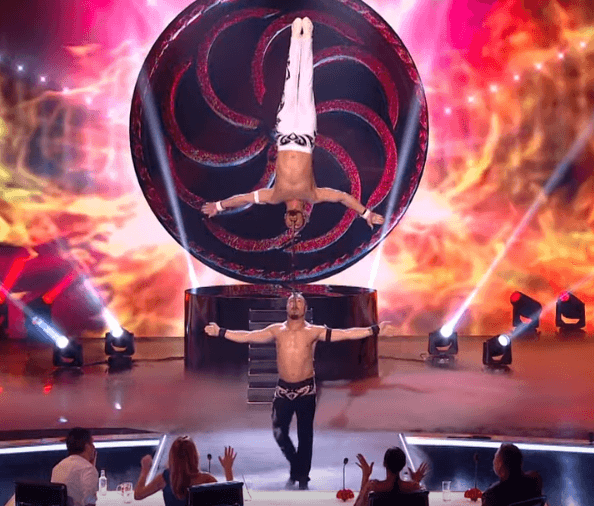 ITV
We're back with another Britain's Got Talent recap! Tonight was the second round of the semi-finals, and eight more acts performed. But who will make it to the season finale?
The Queen
We have our first "X" of the live shows! It was just a playful buzz from Simon after a joke at his expense was made, though. This was a pretty funny stand-up – er, sit down? – routine, though a couple of the punchlines were pretty easy to guess, and we have to agree with David that it would be hilarious to see this version of the Queen perform for the real one at the Royal Variety Performance.
State of the Fart
There's lots of talk of acts needing to take things to the next level with each round, and this one did just that, performing a medley of popular songs from Britney Spears to Queen complete with an army of back-up dancers. Alesha buzzed once the performance was done, but even she was laughing, and the other judges were into it. And shout-out to David who said "When Simon Cowell dies, this is the clip they should show on TV. This is what he brought to the world."
Vardanyan Brothers
This started off feeling like a bit of a retread from their audition, but it got better and better as it went on, culminating in balancing on two swords…held by only their mouths! Simon said the act wasn't dangerous enough (okay then…) but the other judges gave the duo high praise.
Giorgia Borg
Giorgia can definitely sing, and her songwriting skills are pretty good, especially for someone her age. However, this song just wasn't as attention-grabbing or memorable as the one she used for her audition. Alesha echoed this sentiment, but said she was still very proud of her Golden Buzzer. Simon agreed as well, but did she she had a great career ahead of her.
Matt Stirling
Matt's act tonight was a stuntman-style twist on a trick we see far too often on Got Talent. It was pretty well-performed, but the pace was a bit slow and it took a little too long for things to go somewhere interesting. Even though we'd say his audition was better, the judges absolutely adored this performance.
Siobhan Phillips
Siobhan squeezed a lot out of the limited time she had for her segment, managing to give us two songs (one incorporated into her introductory video package) and a stand-up set. The judges enjoyed her, though Simon said the song in the video was better than the one she performed live onstage.
4MG
Even though Simon said he preferred this to their audition, we felt like this was actually a bit of a step backward from that performance. The tight, slick quality was missing this time around, but it was still a good trick (even though it was yet another one we've seen way too many variations on by now). Bringing out former BGT winning act Stavros Flatley was definitely a nice touch, though.
Faith Tucker
Faith has such a mature quality to her voice that helps make her opera sound so good. The judges really liked this performance and it was a nice way to end the episode.
This group was much better than yesterday's on the whole. We're thinking it's very likely Giorgia Borg and 4MG will be two of today's top three acts, but the third spot is a toss-up and almost any of the other six could realistically get it. Voting is now open, so get to it! Learn more about the methods of doing so on the official BGT website, and tune back in at 9:30 pm for the results!
Let us know what you feel about this article