'American Idol' Top 5 To Cover Elton John Songs — Here's Who Should Sing What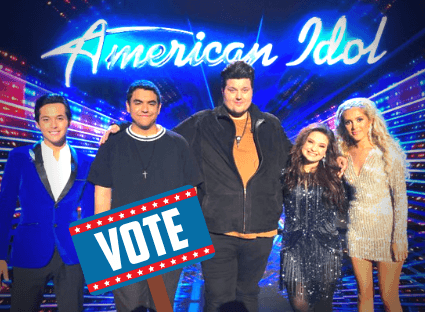 ABC
The American Idol contestants are taking on the catalog of another music legend this week — Elton John. Just a few weeks ago we saw them try their hand at Queen songs, and now it's the Rocket Man's turn.
Gold Derby reports that the themed week is tied to the upcoming release of Elton John biopic Rocketman, starring Taron Egerton. The contestants reportedly saw a screening of the film, out May 31, to prepare for their performances.
The Top 5 Will Sing Three Songs Each
In addition to the Elton John tunes, Gold Derby also reports that each American Idol contestant will sing two other songs this week. Once of the tunes will be chosen by the show's mentor Bobby Bones, and the other will be in honor of Mother's Day. (Get the tissues ready, people.)
What Elton John Song Should Each Contestant Sing?
As we did before Queen Week, let's speculate about which classic Elton John songs the Top 5 could be singing this Sunday. It's a shame that Jeremiah Lloyd Harmon was eliminated last week. He was born to sing Elton John in the same way Uché was born to sing Queen.
In fact, Jeremiah already performed Elton John's "We All Fall in Love Sometimes" on the show. It made Katy Perry cry, and Sir Elton himself posted that it "took my breath away," calling him an "amazing talent."
And he's not the only one to cover the icon this season. Walker Burroughs sang "Your Song," Eddie Island sang "Bennie and the Jets," and Raquel Trinidad sang "Tiny Dancer" with lovelytheband during Celebrity Duets.
American Idol certainly isn't above doing the same songs over and over again, but we'll leave those titles out of our predictions for originality's sake. Here's what we'd love to see the Top 5 sing.
Alejandro Aranda – "Goodbye Yellow Brick Road"
Laci Kaye Booth – "Mona Lisas & Mad Hatters"
Laine Hardy – "Crocodile Rock"
Madison VanDenburg – "Don't Let the Sun Go Down on Me"
Wade Cota – "Rocket Man"
When To Watch
This Sunday's episode marks the last show of the season before the finale. You can watch it live coast to coast, at 8 p.m. ET / 5 p.m. PT, and vote for your favorites during the entire show.
Let us know what you feel about this article