Three 'American Idol' Hopefuls Perform During the CMAs for Golden Ticket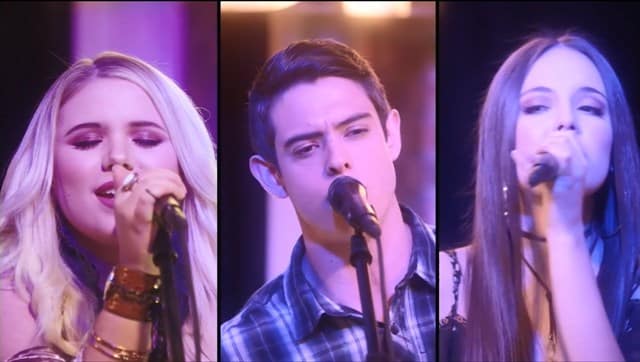 ABC
Last night at the CMA Awards, three American Idol hopefuls performed for their chance at a Golden Ticket to Hollywood! Meghan Woods, Cameron Lenz, and Meghan Spiroff all sang to win the votes of viewers at home. And one will win a Golden Ticket live on Good Morning America tomorrow! But do these Idol hopefuls have what it takes to be the next Carrie Underwood or Scotty McCreery?
Watch their performances here to decide for yourself:
Meghan Woods
The first performance during the CMA Awards last night was Meghan Woods. Meghan is a 17 year old from Hendersonville, North Carolina. She sang "Cry Pretty" by Carrie Underwood, showing off some impressive pipes! I think Meghan proved she has what it takes to make it far on Idol. She has all the presence and poise that Carrie and last season's Gabby Barrett had to take it to the very end. Her tone is smooth and her performance was pitch perfect. That's saying a lot when you're covering Carrie Underwood! It's not an easy task.
Cameron Lenz
The next CMA performance was Cameron Lenz, a 26 year old from Pleasanton, California. Cameron chose to sing former Idol judge Keith Urban's "Blue Ain't Your Color." His voice was solid too! He hit all the notes and has an interesting quality to his voice. But honestly, this wasn't an outstanding performance to me. It was pretty generic overall. I'd say great for karaoke, but nothing that made me go, "WOW! He deserves to be on American Idol." Especially after hearing Meghan's performance, this wasn't up to par with that.
Natalie Spiroff
The final Idol hopeful singing for CMA viewer votes was Natalie Spiroff, a 19 year old from Dayton, Ohio. Natalie sang "Different For Girls" by Dierks Bentley, featuring Elle King. She had the most unique voice of the three in my opinion, but she wasn't always right on the notes. She could be a force with a little more practice and a few more years under her belt though! This also wasn't the best song choice for her. I think there's a lot more to Natalie's voice that we probably didn't hear in this performance. Plus, I think with her voice, she would have great crossover appeal to do pop/country songs too.
So those were the three performances during the CMAs that viewers at home could vote on last night! One of them will get a Golden Ticket for the second season of American Idol on ABC. While the voting has now ended, we're doing a poll of our own to see who might win. And so far, Meghan Woods is in the lead! I'd have to say, she's my favorite to win too.
Which one do YOU vote for?

— TalentRecap (@TalentRecap) November 15, 2018
The winner will be announced LIVE on Good Morning America tomorrow morning, Friday, November 16th. And American Idol, with one of these three, returns in March 2019 for a new season on ABC!
Let us know what you feel about this article